London: English fans in the streets, Bundesliga executive voicing their concerns
source: StadiumDB.com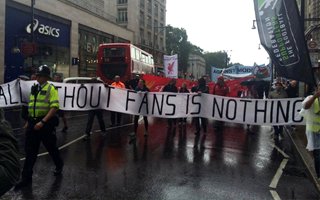 Today's demonstration against skyrocketing ticket prices in the world's most expensive football league wasn't the largest. But it received strong attention in England and beyond. Most notably showing the difference between Bundesliga and the Premier League.
Hundreds of football supporters marched through the streets of London. Seeing that representatives of a few dozen clubs were present, the crowd's size may not sound too impressive, but their message was clear.
Despite the limited range, fans enjoyed significant interest from media in England and around the world. They also met with league representatives, but will this all be enough to force changes in the long run?
Many commentators doubt it. Oliver Brown, chief sports feature writer at The Telegraph, sees today's demonstration as a futile attempt, even if the argument behind it is very serious. "Fears of a lost generation of supporters are well founded. The average age of a fan at a Premier League ground is roughly 40-41¾ the very people who can still remember the last days when club loyalties could still be fostered at affordable prices. At present, the 16-24 age group is the fastest-contracting age bracket of all at top-flight stadiums, given that one must pay full price at 16", Brown writes.
"Voting with one's feet, however, appears doomed to failure when the waiting list for season tickets at the absurdly overpriced Emirates is understood to extend to more than 45,000 people." According to the columnist.
Still, a very helping hand comes from Germany, more and more looked up to by English media and supporters. The Bundesliga chief executive Christian Seifert assures that while German clubs earn less on matchdays with the much lower entry fees, they still get by very well and also enjoy other benefits.
"Demand is huge but clubs choose to limit season ticket sales to 40 or 50% because they don't want the same people going every week," he added. "They want everyone to have a chance. It would be very easy to raise the prices and make more money out of the fans but the clubs tend to choose not to do so. From a pure economic perspective you can say 'What a mistake' but, given our holistic approach, I would say it is the right approach."
Seifert says that this holistic approach is based on marrying "finances, the game and society: if we do not have success in all three dimensions, we do not consider it success at all."
Besides, with the strong influence fans have on the German game, Seifert went as far as to imagine "a huge shitstorm" in the society if German clubs began to charge as much as their English rivals.