Kazan: Kazan Arena (re)opened for league after a year
source: StadiumDB.com; author: michał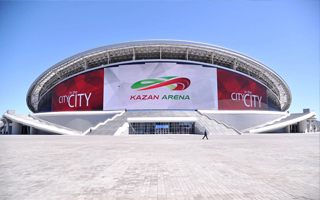 After a (too) long wait fans of Lokomotiv were the first away contingent to ever see a game at Kazan Arena. They returned home satisfied, while local side Rubin enjoyed their record crowd.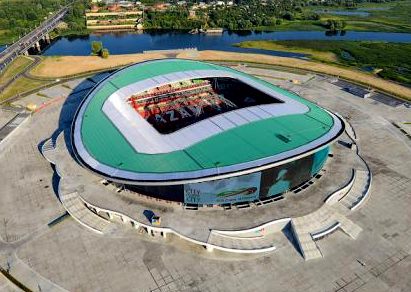 The Sunday afternoon in Kazan was exceptional. Fourth gameday of Russian Premier League saw Rubin tie with Lokomotiv Moskva. First time ever the game wasn't played at the dated Centralnyj Stadion, but at the ultra-modern Kazan Arena.
Despite the stadium being first opened in July 2013, it wasn't available for Rubin since. In fact, it's been almost completely sealed off over the last year. This caused serious controversies, especially with the stadium consuming over 15.5 billion in public funding ($430m / €320m).
Before Kazan Arena was allowed to hold its first domestic game, it had to undergo some works. After the 2013 Universiade temporary giants screens were removed and replaced by new ones. The pitch was laid and protected from all activity, while giant fences were mounted on both ends, closing off most vibrant fans, both local and visiting. Interestingly, the stadium has its entire north end dedicated to away support.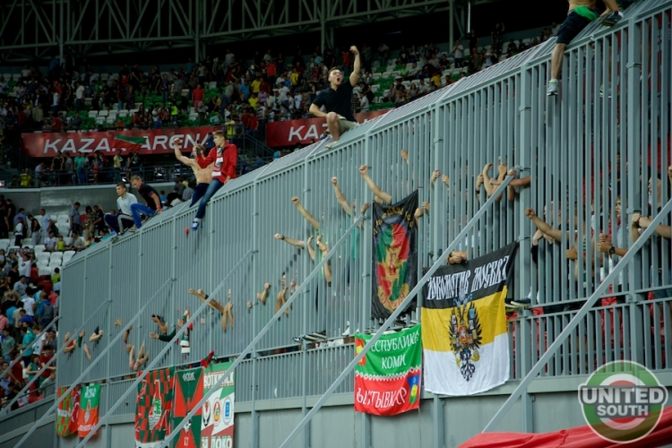 Photo: United South
Yesterday's reopening was special not only because of the long wait, but also ceremonies prepared by organisers and special guests in attendance. These included sports minister Vitaly Mutko and Russian FA president Nikolai Tolstoi. Roughly 3,000 fans from Moscow (our own estimate due to lack of confirmed data) took the trip east and filled most of the lower part of their north end.
Remainder of the away section along with some unused skyboxes were the few empty seats left in the stadium which saw an all-time record crowd for Tatarstan football, 36,855 people. But achieving this came at a price for Rubin, who led intensive marketing campaign of the second opening and decided to create extremely affordable pricing policy. Lowest tickets, without any discounts, were priced at RUB 50 (or $1.4 / €1), while watching Rubin home for the entire season costs as little as RUB 1,500 ($42 / €31).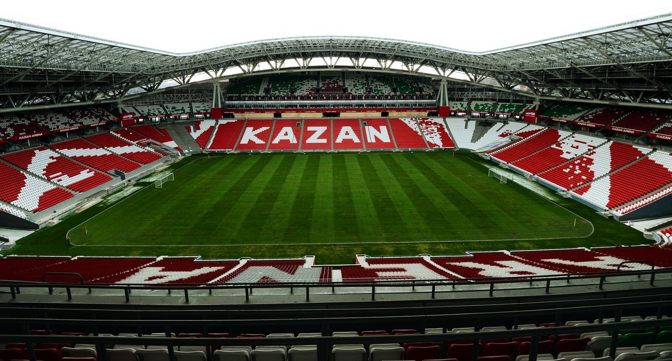 It seems both home and away crowds were very satisfied with Kazan Arena, the latter confirmed in a review by United South, Lokomotiv's fan group. Visitors appreciated the catering infrastructure and pricing, calling the stadium an example for the entire league. Interestingly, for some fans of Lokomotiv the game was only part one of a larger trip. Before returning to Moscow, this week they'll reach Nicosia in Cyprus for a Europa League clash and next week southern Russian city of Krasnodar for a second away game.
The first game at Kazan Arena was something special off the field, but on it… not so much. Rubin failed to break a series of poor performances, experiencing their 3rd draw (1:1) out of four games so far (aside of the 0:4 defeat to Spartak).