Donetsk: Donbass Arena damaged by shelling
source: Shakhtar.com; author: michał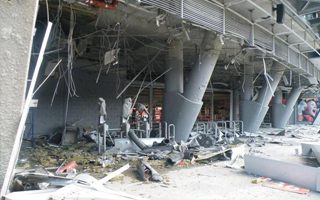 Yesterday morning two large explosions occurred in the north-western part of Donbass Arena. No-one was hurt, but damages are significant. Shakhtar released photos of the site.
Shakhtar Donetsk's statement from yesterday reads: "On 23 August, at 6:00, two powerful explosions occurred at Donbass Arena. As a result of shelling, there are numerous damages of the northwestern facade of the stadium, communications, equipment and detached building of the energy centre, which is located in the northern part of the Donbass Arena park."
These are the first damages to the stadium since military conflict broke out in Donetsk, which was highlighted by Shakhtar. On Thursday Ukrainian authorities claimed the stadium has already suffered from shelling, which was later denied by the club. However the landscaped park around Donbass Arena was already reached by artillery fire before.
Due to the military conflict Shakhtar doesn't operate in Donetsk temporarily, so no club employees were hurt in the shelling. "Miners" currently play in Lviv and train in Kyiv.