Bordeaux: Roof almost ready, first giant screen mounted
source: StadiumDB.com; author: michał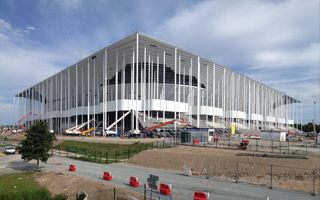 First of two giant screens was mounted under the roof of Stade Atlantique this week. The Euro 2016 arena is entering its construction's final stages as the roof and external cladding are almost done.
On Tuesday first of two giant screens was lifted and installed above the north end of Stade Atlantique. With 70 sqm and weight of 10 tons it's the third largest jumbotron in France. Its "twin brother" is also ready for mounting, but will rest on the field until mid-September, when roof over the south stand is ready.
Assembly of the two screens is a great opportunity to take a peek at how the construction works are going. And it's progressing really fast in recent weeks, which is particularly visible in the external cladding. Passers-by may already admire the unique layout and aerie architecture of the new stadium. A jungle of columns supports the stands, while the vast stairway ramps surrounding the stadium could seat 25,000 people themselves.
Inside, the roof structure is nearly ready. Last steel prefabs need to be mounted to complete the skeleton, while glass, tinware and decorative white mesh are in place almost everywhere, excluding only the south end.