Bilbao: Construction of San Mames Barria almost over
source: StadiumDB.com; author: michał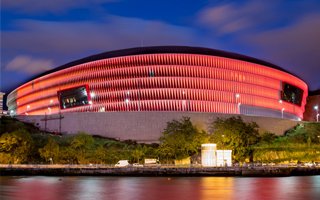 Only two weeks remain until we see the most modern stadium in Spain delivered. One year after most of the stands were ready, now the arena is almost complete.
Initially it was hoped to deliver the second, smaller part of San Mames Barria in July, with a safe time cushion ahead of Primera División launch in August. However, the amount of work to deliver was huge and doing it in just one year was a tough challenge from the start.
Eventually the stadium should be fully operational for the Levante game on August 30, Athletic's first home fixture of the season. Construction pace in recent weeks was phenomenal, which can be seen in a very brief, but clear comparison of Jun 05 and Aug 12 photos below:
Currently almost all of the external cladding and roof sheets are in place, as well as the 53,000 seats. Capacity increase for the upcoming season is one Athletic will surely enjoy, because the club had a 95% occupancy rate in the past season, something very rarely seen in Spain and more common for English, German or Dutch clubs.
So it seems the long-lasting saga of Bilbao's new stadium is just weeks from a happy end. While the old San Mames was a place of cult and work of art for some, it's been insufficient for Athletic's long-term development and the club had been trying to relocate for years. In the end the new arena is only partly outside the old ground's blueprint, but it still took a long campaign to make it happen. Cesar Azkarate's simple, but elegant design dates back to 2006, while construction was only able to start in 2010.
Initial cost of the project was thought to be slightly over €160 million, but in the end should be kept within €212 million. Of that amount €50 million was provided by Athletic and identical contributions came from the Basque Government, Basque Deputation and BBK bank. Final and smaller share, estimated at €12 million, was supplied by the mayor of Bilbao. Significant public funding raised concerns in the European Commission whether the stadium isn't a case of prohibited public aid.