Ukraine: Donbass Arena abandoned indefinitely
source: AFP; author: michał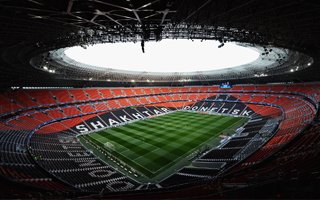 Shakhtar Donetsk began their league campaign today, but holding any game at the ultra-modern Donbass Arena was out of question. The team have taken up tenancy of Arena Lviv, another Euro 2012 ground.
As we're writing this piece, it's over one hour of play between Shakhtar and Metalurh Zaporozhe. The home team are leading 2:0, but aren't playing at home at all. Shakhtar became temporary tenant of Arena Lviv, the least used stadium built for Euro 2012.
Over 1,000km away from Donetsk only a handful of Shakhtar fans are present with overall attendance being only several thousand people. National flags of Ukraine dominate and the support gets really loud only at times when patriotic/political chants are started.
Pre-season preparations of the Donbass team were carried out in Kyiv, while the facilities in Donetsk stand unusued with last season's branding. Donbass Arena and the training camp are being well maintained and haven't suffered any major damage so far, but the AFP claims conflict front may reach them soon.
For fear of the situation in Ukraine several foreign players of Shakhtar have refused returning to play in domestic games. However, the club recently announced its squad will soon be complete.