Rome: AS Roma reveals new details of the future stadium
source: iltempo.it / forzaitalianfootball.com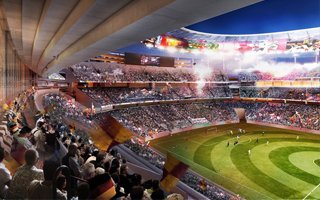 We've now learned the exact capacity, surrounding infrastructure scheme and the complete budget. And the latter is immense, altogether said to be €611 million. Report by ForzaItalianFootball.com.
When the Serie A team first presented their new stadium scheme in March, we lacked some details. Now some of them are clear. Exact capacity of the future arena is 52,594 seats around three tiers. With rising demand the size may be increased with further 7,264 seats to reach 60,218 capacity.
Security-wise, there will be a police station located within the stadium itself which will contain a control center to monitor the multiple CCTV cameras throughout the stadium.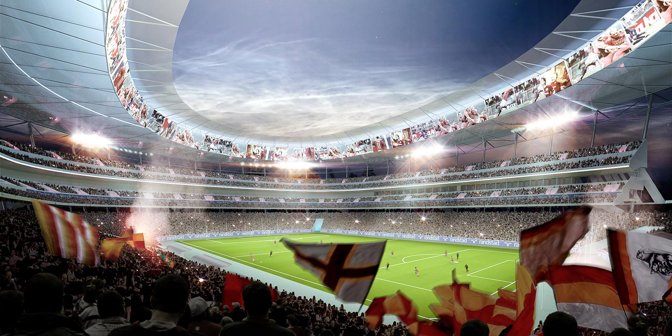 Image: StadioDellaRoma.com
The sports stadium will be built alongside the venue which will also host two full sized football fields, a gym, a physical rehabilitation center as well as a host of other services including television studios, restaurants and a hall of fame.
The ground will have plenty of parking room too, with enough space for 20,000 bikes, 6,000 cars and 58 buses, with both level and multi-storey car parking available.
The stadium, sports center and commercial spaces in the area is expected to cost €341 million ($465m) while parking complexes, infrastructure improvement and designated green areas and area development is due to cost €270 million bringing the total cost of the state of the art venue to around €611 million ($833m).