New stadium: Singapore National Stadium
source: StadiumDB.com; author: michał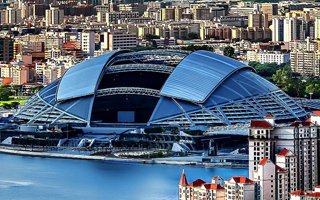 There never was such a large dome anywhere in the world. Nor was there any public-private project of this scale. Until now. The new Singapore National Stadium is now in operation!
The story begins 7 years ago. In 2007 Singapore Sports Council announced the open tender for its new national stadium. The scheme ranked as largest ever public-private-partnership project saw three bidders compete, all experienced teams of specialists both in design and construction. A small portion of the bidding concepts may be found below.

In early 2008 the Singapore Sports Hub plan was selected, envisaging a monumental dome surrounded by secondary structures, two indoor halls, natatorium and a vast shopping mall.
Along the guidelines SSH included no less than 55,000 seats for fans and a retractable roof to make the stadium weather-proof.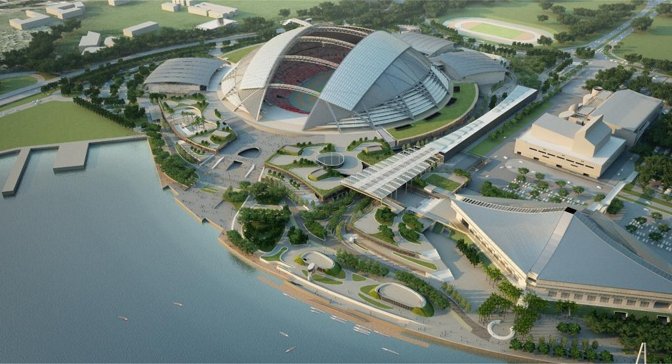 As the design came to a detailed phase, it turned out that the dome designed by Arup is also the world's largest self-supporting dome, spanning across 312 meters. Retractable part of the roof consists of two hydraulically moving segments covered with ETFE sheets, requiring some 20 minutes to open/close. When closed, the stadium is still partly open because of a large western gate offering a view of Singapore's skyline. A maximum of 95% seats can be protected from rain.
Altogether there are 55,000 seats spanning over three tiers. The lowest one is partly retractable, allowing sections of seating to move 12.5m and allow decent sightlines for football/rugby (55,000), cricket (52,000) and athletics (50,000).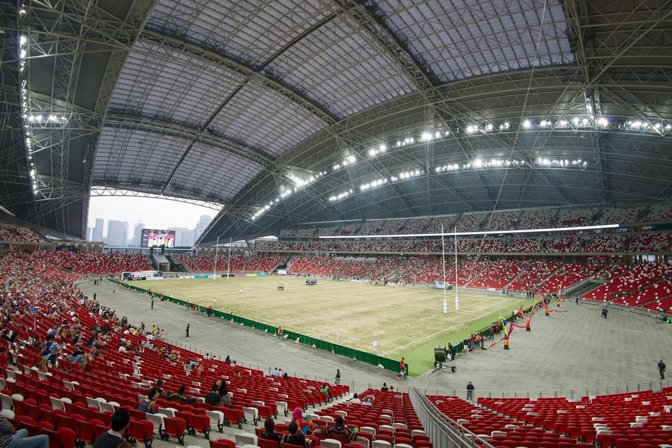 Photo: Zaw Wei
A unique feature is the stadium's cooling system, providing each seat with individual blower, pushing in 12 liters of cool air per second. This way the stadium is expected to create hospitable and comfortable conditions for viewers regardless of the heat and humidity of Singapore.
Construction work didn't start immediately after design selection. The S$1.87 billion project was put on hold in 2008 as a result of economic crisis. It took off with piling and ground works in 2010 and was expected to end in April 2014.
In the end there was a slight delay, seeing first test events in June and July. First came rugby games watched by a handful of spectators on June 21-22. Then last weekend a concert of Singaporean music with the entire lower tier open. Another concert is planned for July 5, this time of local music queen Stefanie Sun, who sold 30 million copies of her albums in the region.
As for football, the stadium was expected to host a Singapore-Malaysia friendly in recent weeks. But due to some features of the stadium not fully working it was postponed to a later date, not specified yet. Currently the first planned game is Singapore Selection – Juventus FC friendly scheduled for August 16.