New construction: Old, new, legendary Luzhniki
source: StadiumDB.com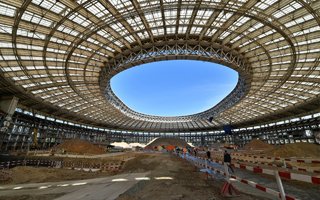 From the removal of seats in September to foundation slab in July – check the progress in photo galleries from Moscow. And in the article you'll find new information about the 2018 World Cup final stadium.
Luzhniki redevelopment ahead of the 2018 World Cup was always going to be spectacular, which figures for a stadium and event of this magnitude. But it was also subject to controversy – should the largest stadium of the world's largest country be demolished or kept in its historical form? There were many ideas, some very extravagant, like the one by Intex, shown below.
But in the end preserving the existing stadium was chosen as preferred option, resulting in a much more conservative approach to the redevelopment.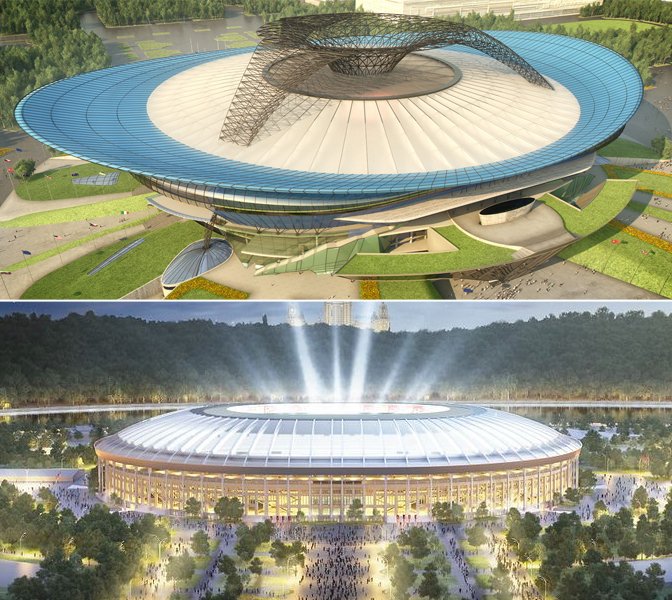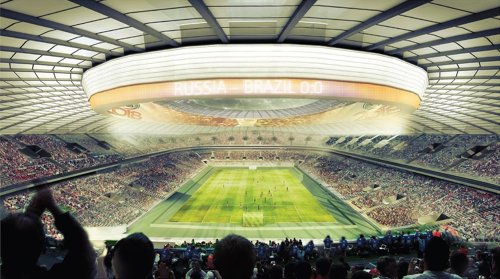 Aside of the domestic discussion there was also the issue of capacity. FIFA demanded 89,000, which would be almost impossible to fit inside the current shell. The requirement was questioned by Russian organisers as neither Brazil (2014), nor Qatar (2022) faced similar size objective. In the end FIFA agreed to lower its desired capacity to 81,000, which allowed to pursue the plan of building new stands inside the historical stadium.
In September 2013 dismantling of all equipment began, seeing almost all of the 78,000 seats donated to Russian supporters union as souvenirs for nationwide distribution. Once the structure was clear of any unnecessary load, demolition began. Piece by piece the stands were removed.
The operation had to be ran very gingerly, because both the external walls and roof set upon them had to retain their durability. The "shell" was reinforced to assure it stays safe throughout the operation.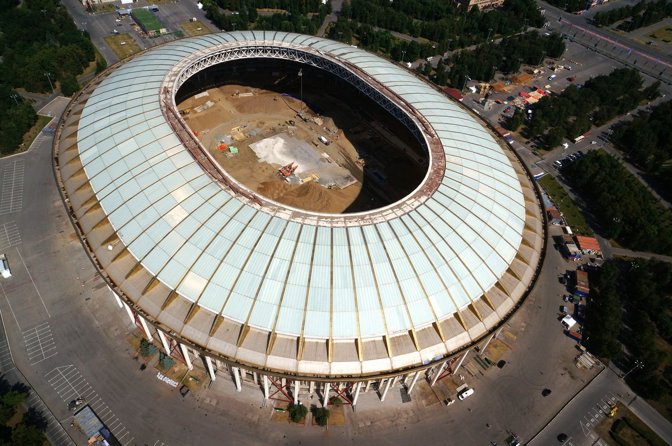 Photo: Комплекс градостроительной политики и строительства города Москвы
Today there's nothing left from the old stands apart from the uppermost segments. Furthermore, demolition and rubble removal ended a month ahead of schedule. This way instead of trucks carrying debris we can already see foundation works inside the stadium.
By late September all of the foundation slab is expected to be in its place and from October new stands will begin to grow. The double-tiered bowl will provide 221,000 sqm of space for various uses and will be ready in 2017.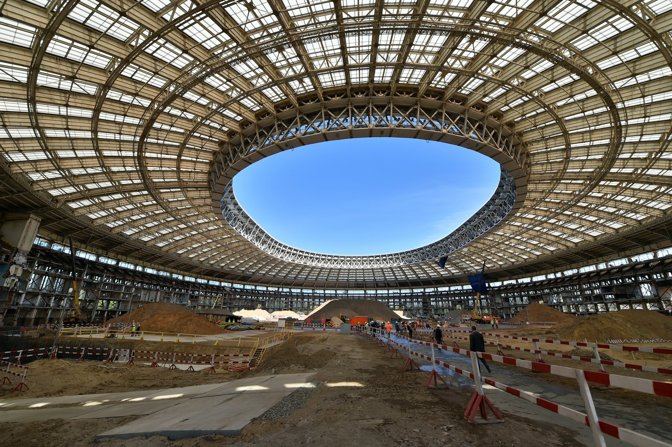 Photo: Комплекс градостроительной политики и строительства города Москвы
The stadium's budget is also important. Initially thought to be around RUB 25 billion it was later downsized to 20 and eventually to 19 billion ($537m / €400m). With Russia's widely criticized stadium overspending, this amount looks rather sparingly. It represent just over half of the Saint Petersburg stadium's cost despite cost-cutting attempts in the latter city.
From now on we will be showing you progress from Russia's largest stadium project. Photos presented courtesy of the Moscow's Urban Policy and Construction Complex.