New construction: Ashton Gate transformation begins
source: StadiumDB.com; author: michał
The famous 86-year-old Wedlock Stand is no more. Or at least won't be in 6 weeks, when demolition crews are done with it and make way for the first new stand. An (almost) brand new Ashton Gate should come in 2016.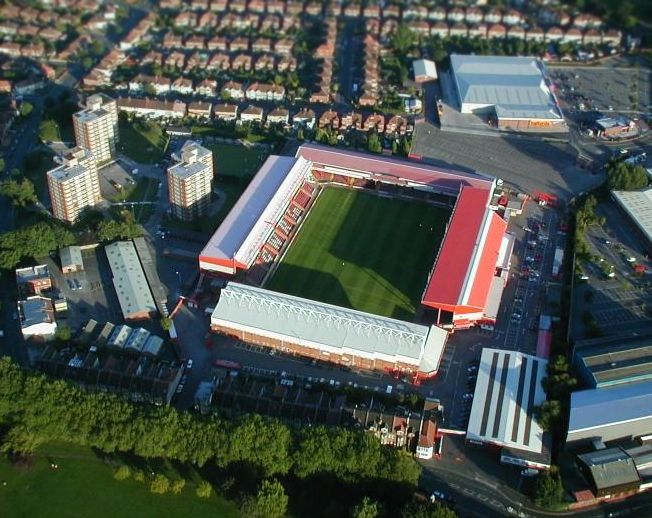 Precisely at 11:00 local time demolition crews started tearing apart pieces of the Wedlock Stand, south end of Bristol City's home Ashton Gate. This turning point ends years of anticipation and, sometimes futile, attempts to upgrade facilities for football and rugby in western Bristol.
Wedlock Stand's demolition begins a sequence of three separate phases. After building a new south end, the eastern Dolman Stand and western Williams Stand will follow. Only the north end will remain mostly untouched, as it was built only in 1994 and needs fewer changes.
Organisers were preparing for weeks, removing all demountable equipment from the Wedlock Stand. The steel and brick structure is giving way easily, but contractors were given 6 weeks to finalise the demolition. This is caused by spoil in the ground which needs to be cleared before construction of the new end can begin.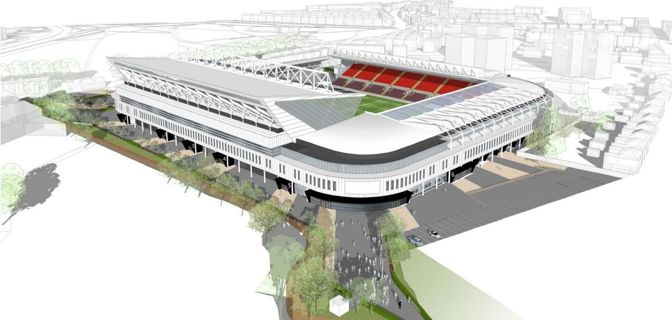 Throughout each of the three revamp phases Bristol City and Bristol Rugby will be using the stadium. A brand new pitch, with synthetic fibers among the natural ones, was laid in May and is already strong enough to withstand use and inevitable dust from the construction site.
In 2016 the stadium should have 27,000 seats and some of them transformable to terracing, possibly increasing capacity for some events. As standing is illegal throughout the Football League, terraces will only be used for rugby games, unless legislation changes.
Bristol Sport, owner of both clubs and the stadium, estimates the project to be worth £45 million (or $76m / €57m). Its outcome will not only change the stadium's appearance (with a dominating west stand), but also largely increase commercial space for sustainable growth of both tenant clubs.