London: Arsenal demands more concerts at Emirates
source: Independent.co.uk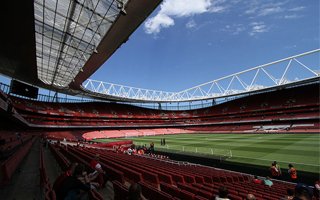 The Gunners have filed for judicial review of their bid to double the number of concerts at Emirates. Current cap allows the club to hold 3 events, which is too few. But is it? Local authorities consider it enough.
Since the Emirates Stadium was opened, it had a cap imposed for non-football events. In practice this means that up to three concerts may be held at the ground between football seasons. Arsenal want to revert this decision and are asking to double the number to six gigs.
Islington Council rejected Arsenal's application and a planning inspector dismissed the club's appeal in January this year. The planning inspector decided Arsenal's demand "did not accord with the development plan" for the stadium. The plan was set with local community in mind, protecting them from potential noise and litter increase.
Now Arsenal have filed for judicial review of that decision, claiming a "clear error" has been made. Today Dan Kolinsky. representing the club, told Mr Justice Cranston at the High Court in London the inspector's decision was legally flawed and should not be allowed to stand.
Lawyers for the inspector and Islington are arguing the inspector followed the correct approach and there is no substance in the club's challenge.
Arsenal's bid to increase number of events is an effort to maximize stadium revenue. During the public inquiry run earlier, Arsenal chief executive director Ken Friar said the club needed the money from the gigs to perform in the extremely competitive world of football, citing Manchester United's profits at £100m compared to Arsenal's £20m.
This data is very one-sided, though. Arsenal's stadium is already one of the best arenas commercially, delivering £108 million annually, only slightly less than Old Trafford (£127m) despite large size difference.