Hamburg: Chosen Few abandon support for HSV after 'sell-out'
source: StadiumDB.com; author: michał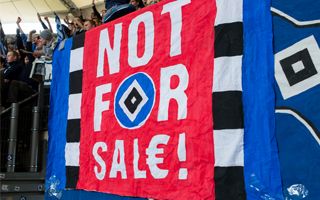 Hamburger SV isn't a club owned entirely be fans any more, becoming a joint-stock company. That was the last straw for Chosen Few, the group creating vibrant atmosphere at Volksparkstadion.
There are some changes coming to Hamburg in the 2014/15 Bundesliga campaign. First, the club will begin its first season as a joint-stock company rather than an association owned entirely by some 10,000 individual shareholders. This comes as a result of May's general meeting, when 86.9% voted to transform HSV in hope of progress.
To cut long story short, Hamburger SV has opened the possibility of selling 24.9% of shares to commercial investors. Overall the club is still owned primarily by supporters and is well under the Bundesliga rule of not giving more than 49% of shares to single owners. However some supporters see it as a 'sell-out' of the democratic principle in an attempt to get a short-term financial boost.
Chosen Few, the group present at Volksparkstadion for years and responsible for tifos, support and other activities that was too much. CF announced their withdrawal from supporting HSVPlus, the join-stock company, while limiting their participation to other sections of mother-club HSV eV. The fan group is also furious about the club not condemning very aggressive police intervention from early May, when riot squads entered the stadium leading to scuffles.
Despite the promise of great future awaiting HSVPlus and the football team, many see the transformation as a result of desperation. The past campaign ended with HSV barely avoiding relegation on just one play-off away goal. In its entire history, the club was never relegated from Germany's top tier, remaining in the Bundesliga ever since its foundation in 1953.