Enschede: Three years since the roof collapse
source: StadiumDB.com / rtvoost.nl; author: michał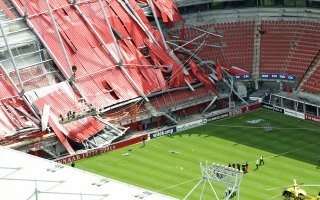 FC Twente and their fans today remember Peter and Dave, two construction workers killed in the 2011 tragedy. It's already been three years since the stadium expansion was seized dramatically.
It was exactly three years today since the roof collapse over De Grolsch Veste's south end. The cover was still under construction and didn't have its proper stability and durability, which led to the deadly crush.
Although none of the two tiers the roof fell upon suffered major damage, the accident ended tragically as there were workers present on the stands when it happened. Peter Burgers (24yo) and Dave Nijkamp (31yo) died at the scene.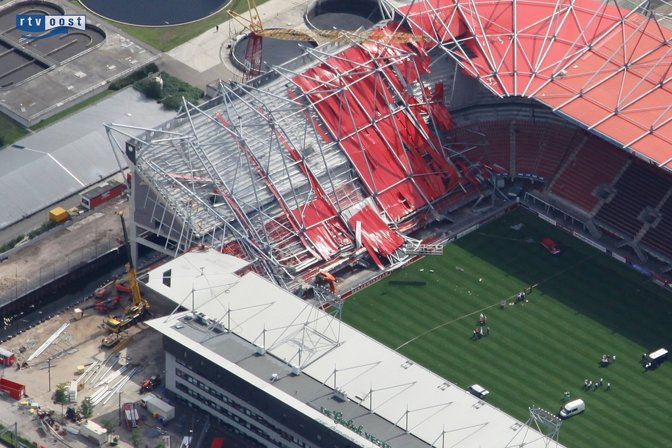 Photo: RTV Oost
Today a modest monument commemorates their sacrifice under the stand. Two primary structural pillars have concrete benches added to them on the ground level promenade, each with one man's name. Between the pillars is a small concrete pedestal with the exact time engraved (07.07.2011, 11:54) and an epitaph saying "Ineen was het stil" (The collapse was quiet).
Ongoing inquiry
Though it's been three years already, the prosecution still hasn't ended all proceedings. Results were expected in September last year, but the issue is said to be more complex than anticipated.
All analyses suggest construction companies are to blame. There were significant alterations done to the work schedule, without thoroughly assessing the associated risk.
At this point it's not clear whether anyone will face criminal charges for the tragedy. According to the latest statement by the prosecutor's office it's a matter of months.