Canada: Will Hamilton make it for opening?
source: CBC / StadiumDB.com; author: michał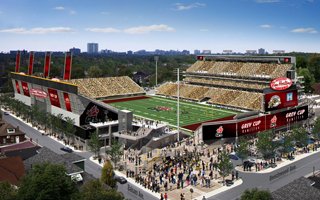 It's less than a month until the Tim Hortons Field opening game. Not many tickets are left, but some seats assigned to those tickets still haven't been installed. The stadium is already behind deadline, but might be opened unfinished.
If Tim Hortons Field was in line with the construction schedule, it would have been opened on June 30. But while the deadline is behind us, work is still ongoing. Progress is fast, but a lot still needs to be done. Only next week we'll see the turf installed, while the main grandstand barely has any seats so far.
This means a fight against time as the opening game between Hamilton Tiger-Cats and Ottawa Redblacks is scheduled for July 26. Tickets aren't only on sale already, there aren't many left.
This is why CFL commissioner Mark Cohon visited Hamilton on Wednesday, while the Tiger-Cats were meeting Thursday and Friday with Infrastructure Ontario to review where they are with the project.
Two weeks back the club assured opening will take place as planned, but currently this isn't so clear. Most probable scenario is the stadium being opened as planned, but without full infrastructure in place. Tiger-Cats should announce the final decision in the coming week.
Construction of the 24,000-seat Tim Hortons Field was launched in spring of 2013 and should have ended last Monday. You've been able to see the progress throughout the entire project at StadiumDB thanks to Jim Upson, who provides regular updates from the site.