Canada: Tim Hortons Field to miss at least two games
source: CBC.ca; author: michał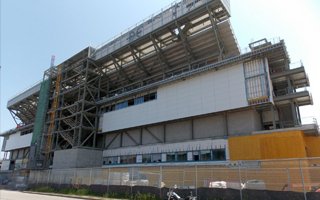 Construction delays are now confirmed to have pushed opening of Tim Hortons Field by at least two home games, maybe more. The team will assess progress in upcoming weeks to confirm actual inauguration.
It's now confirmed that Canada's latest stadium won't actually be the latest one, falling well behind next week's opening of the new arena in Ottawa. Hamilton's Tim Hortons Field was expected to be opened for the first home game of the CFL Season on July 26, precisely against Ottawa's home team, the Redblacks.
The Hamilton Tiger-Cats will instead play their first two home games at McMaster University (6,000 capacity) amid news that the new Tim Horton's Field stadium won't be ready for the July 26 and 31 home games. In fact, the team aren't sure if more fixtures won't be affected.
"In the coming weeks, we will have greater certainty regarding our Aug. 16 game," said Tiger-Cats CEO Scott Mitchell. The uncertainty is caused by the contractor's assurances that Tim Hortons Field will be ready "no later than Labour Day" (first Monday of September).
City officials made the announcement that the $140-million stadium wouldn't be ready in a media release Monday afternoon following a meeting with the city, the Tiger-Cats, IO and Ontario Sports Solutions.
The 24,000-seat facility "will not be safe and ready for occupancy by then," it said. "We will review the construction status again at the end of July and provide a further update at that time."