Brazil: Noble prank by Italian performer
source: StadiumDB.com; author: michał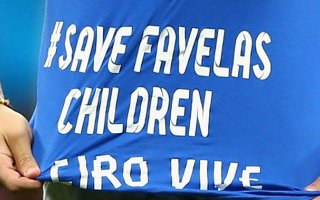 Yesterday's Belgium – USA game was stopped for a moment by Mario Ferri, Italian pitch invader who didn't mind his stadium ban until 2018. But aside of his moment of fame, he also spent the time to spread awareness.
During the first half of Belgium – USA World Cup game a man wearing blue Superman t-shirt invaded the pitch. His stunt caused displeasure of players, coaches and many fans, but some were also amused and applauded him. Biggest praise came after the game, when his message came through to mainstream media.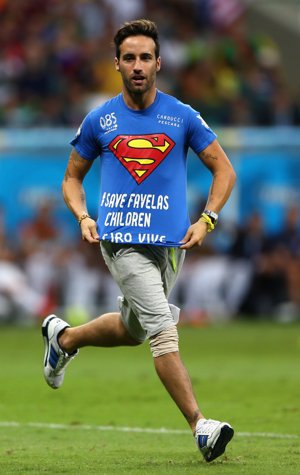 Mario Ferri wasn't a fan, as initial reports said. He's a 'professional' invader who had been preparing for yesterday for quite some time. He had a press pass and, in case it wouldn't work out, also a disabled person's pass for the upcoming Netherlands – Costa Rica quarterfinal. He also has a stadium ban lasting until 2018 after he invaded the pitch in South Africa, during Germany-Spain semifinal.
After Ferri ran around the pitch and was finally escorted out be stewards, he tweeted and even gave interviews to Italian journalists. "Can't talk, I'm being arrested", he said the first time. But a moment later he went on: "I'm the last Italian in the knockout stage of the World Cup. I'm in front of 50 police officers, all very kind, I said it was my mother to answer", Ferri joked live on Radio 2.
The Italian pitch invader enjoys the fame, but that wouldn't bother us the least. He also does his lot for raising awareness. He had two messages printed on his Superman t-shirt, both as hashtags. #CeroVive is associated with Cero Esposito, a Napoli fan gunned down ahead of Coppa Italia final. He died recently after 50 days of hospitalization and is regarded a hero by many people.
The second issue mentioned is one closer to the Brazilian tournament: #saveFavelasChildren. Mario's presence in Brazil is associated with an essay he's writing on Brazil's poorest areas, where children are particularly vulnerable to violence, addictions and exploitation.
Favelas are areas very often mentioned along World Cup coverage as standing in bright contrast with the mega event. They're also arguably the areas benefitting least from the FIFA tournament.
Some inhabitants of Rio de Janeiro's favelas decided to use the tournament and show their grief over unequal treatment. A demonstration named "A Festa no Estádio Não Vale as Lágrimas nas Favelas" (Fest in stadiums, tears in favelas) was carried out recently by families demanding justice for their murdered or mistreated relatives. Another one is planned for July 13, day of the World Cup final in Rio de Janeiro.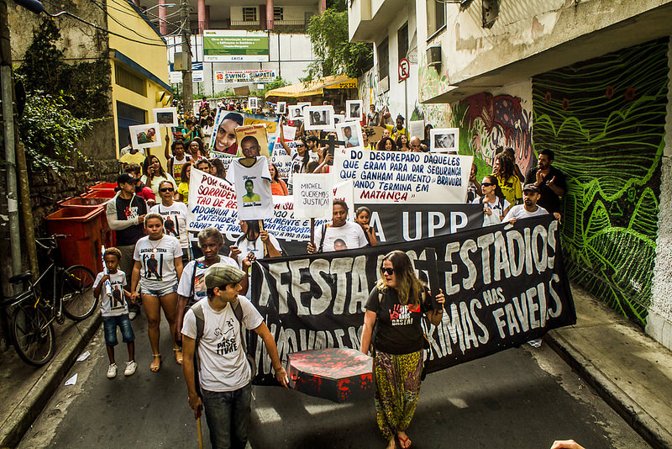 Photo: Ninja Midia
As you may hear in the below documentary by Danish journalist Mikkel Keldorf, the level of inequality is shocking. While opinions expressed in the documentary are very personal and sometimes emotional, let's have data speak: Fortaleza Security Secretary Kelia Jacome supplied the author with information that there was no reported violent deaths among street children. Meanwhile six local NGO's working with homeless people locally say the number is at 121 just for 2013. And it's believed by some that as the World Cup was nearing, some people were killed only not to spoil the views for tourists.