Belarus: Lukashenko approves national stadium financing
source: Kresy.pl; author: michał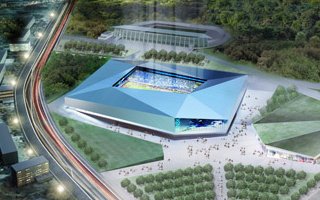 President Alexander Lukashenko signed a decree releasing funds for the new national football stadium in eastern Minsk. This decision strengthens the Belarusian Euro 2020 bid.
On Friday president Alexander Lukashenko signed a decree for potential release of funds for the new national football stadium in Minsk. His approval is expected to boost the arena submitted by domestic football association as a Euro 2020 candidate venue.
It's not clear at this point whether funds will also be used for construction if Minsk isn't selected by UEFA. However, past declarations suggests this is the most likely scenario as the capital is to have two national stadiums. One for athletics, already under reconstruction at Stadion Dinama, and one for football.
The football one is zoned for eastern Minsk, roughly 4km south-east of centrally-located Stadion Dinama and just across the road from Stadion Traktor. Initial concept was drawn by German GMP Architekten and is expected to cost €100 million, though it may not be the final budget.
Capacity is now announced at 33,000-35,000 people, slightly over the early promise of 30,000. Construction should begin no later than in 2016 for the building to be ready in 2018.