Australia: We've waited 7 years for these images
source: StadiumDB.com; author: michał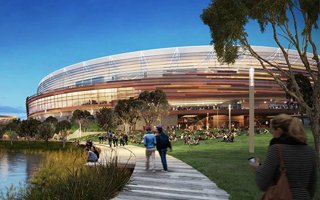 Was it worth the time? Judge yourselves, but it's an impressive project no matter the aesthetics. Worth nearly $770 million, this new 60,000-seater will be ready in 2018.
Construction of a new multi-use stadium in Perth was first announced in 2007, along with initial renderings. These envisaged a dynamic design with 20 petal-shaped roof segments overlapping one-another and covered with bright scales. It looked impressively and so did the budget, roughly around A$1 billion at different stages of planning.
The project suffered to numerous delays, however, partly due to debated location. Eventually it was agreed to be built at the Burswood Peninsula, east of the strict centre. Also the price tag raised various opinions, even though it's not a typical public investment.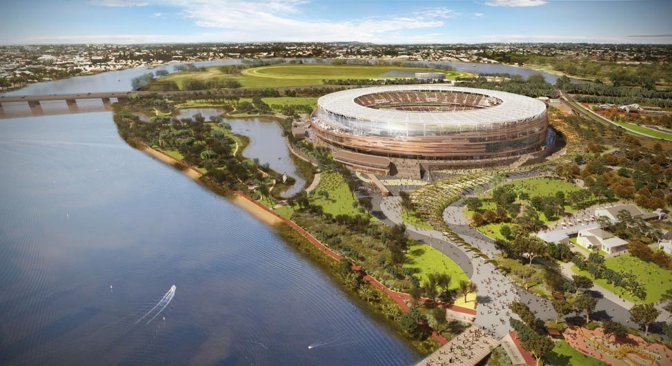 Rendering: Western Australia Government
The vast leisure complex planned in this location was estimated in 2012 to cost A$ 902.4 million, half of which would be financed publicly (as part of a PPP project), of which the stadium alone was tagged at A$820.4. The remainder will allow delivery of public green areas and access infrastructure, including a pedestrian bridge over Swan River and a rapid transport link. Eventual price proved to be $40 million lower as three bidders were interested in the project.
The stadium will have a traditional oval form, optimal for cricket and Australian football, also good for athletics. But, with the use of retractable stands, hosting football or rugby is also planned. Three tiers will hold 60,000 people with an option of adding further 10,000 in case of increased demand.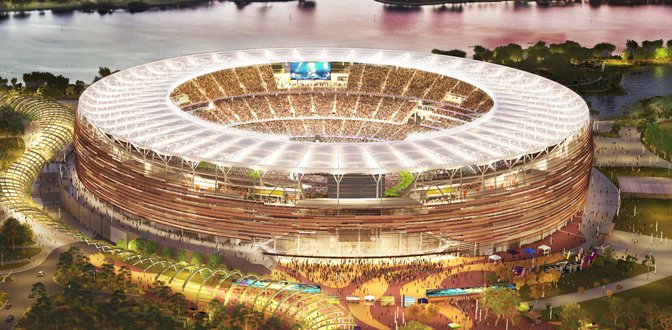 Rendering: Western Australia Government
External cladding will consist mostly of anodized aluminum slats. The bronze façade should give a warm and natural feel by day and by night will be illuminated by LED lamps depending on event/host colours. Light membrane canopy will cover 85% of the stands, staying in line with local climate.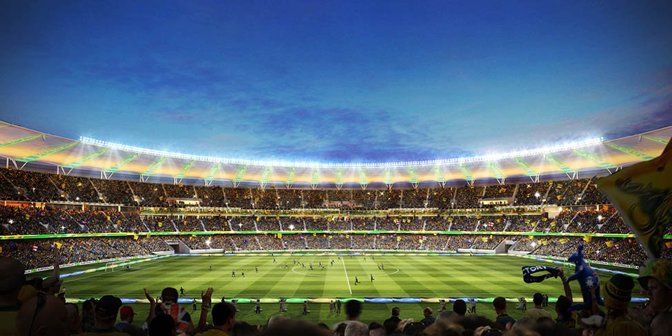 Rendering: Western Australia Government
The stadium was promised by West Australia's authorities to represent the country's highest comfort levels with wide seats, 70 concession stands, almost 1,500 toilets and over 1,000 TV screens spread over 5 levels of the building.
Construction should start in late 2014 after preparatory works took over a year beforehand. The entire structure should be ready for opening ahead of the 2018 AFL season.