World Cup comment: English hooligans? What English hooligans?
source: StadiumDB.com; author: michał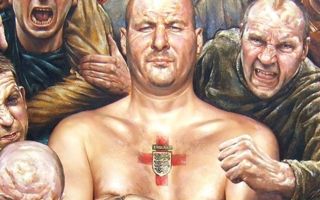 If you haven't seen them yet, it's probably because Argentine hooligans took most of the spotlight. But headlines with the myth of English yobs invading the host country are well alive. Should they?
While there can be no doubt that securing a mega-event like the World Cup is a great challenge, you might get a very wrong picture about this kind of operation if based only on media reports. Football Supporters Federation in England shows very well how the image of an entire group can easily be manipulated.
If you see a headline like "Football yobs breach banning orders", you might not notice that the article is about six people who failed to submit their passports by midnight to prevent them from flying to Brazil. It's not necessarily about hooligans at all, it's only about missing a formal deadline by people who aren't even mentioned as violent offenders.
Still, there seems to be a wide-spread acceptance of the idea, that English football supporters will go anywhere to cause trouble (same cliché used for Polish and others, too). There may have been no significant incidents in South Africa or Germany, but it's still alive. Alive enough for mayor of Manaus to appeal specifically to English fans to "behave like priests".
Like priests? They're coming to watch football and drink cachaça. Seriously, the people coming to Brazil already go through a lot, travelling around the world and agreeing to irrational ticket and hotel prices. Shouldn't they be allowed to have some fun, dance in the streets and sing their hearts out even if the night isn't most appropriate time for it?
Back in England and Wales there are 2,451 football banning orders (FBO) in force. All of these people were asked to surrender their passports for 5 long weeks. Which is ironic for Welsh fans, whose team didn't even qualify.
While some media outlets consequently dub all of these people hooligans, it's highly unlikely that more 10% of them were handed their bans for violent behavior, based on arrest statistics. And even if, how many of the 300 "actual yobs" with bans would be interested in going to Brazil for trouble? Most likely a handful, if that many. Just to remind you, as the FSF brilliantly did: there was ONE banning order after any England away game over the past season. And it was for alcohol abuse. In San Marino.
So let's hope there will be no incidents in Brazil, all apocalyptic prophecies fade away after first few games and we can all enjoy some great football over the next few weeks. Even if Brazilians themselves have more than enough reasons not to be entirely happy about how the tournament projects were executed…