Sao Paulo: Intense countdown to World Cup opening
source: AP / StadiumDB.com; author: michał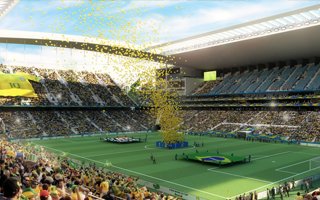 Most desired scenario: everything goes well, the game is great and matchday experience for those inside at least enjoyable. But until today evening, work is still in full swing to get the stadium ready.
A few weeks ago one worker assured foreign journalists that everything will be ready for the World Cup, but no sooner than at the last minute. Well, that statement proves quite literal.
While the subway workers seized their strike, those at Estadio de Sao Paulo, as Arena Corinthians is temporarily called, don't have the comfort of taking such a break. It all hangs on them tonight as global spotlight moves to Sao Paulo for Brazil – Croatia opener. It surely won't be as in the below rendering, but not only because of nighttime fixture...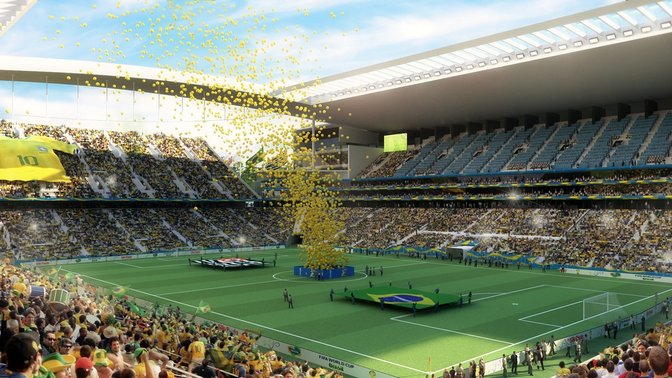 It wasn't ready until Monday that the fire department allowed to use both temporary stands and remaining sections of the stadium. But in the end some fans – even those with tickets – will be left out as the stadium's capacity fell from planned 68,000 to 61,600 due to delays.
As if it wasn't stressful enough for the organizers, on Tuesday an Associated Press reporter entered the stadium unnoticed and wandered around without being bothered for two hours. Apart from serious safety questions, this again delivered insight into the stadium's state.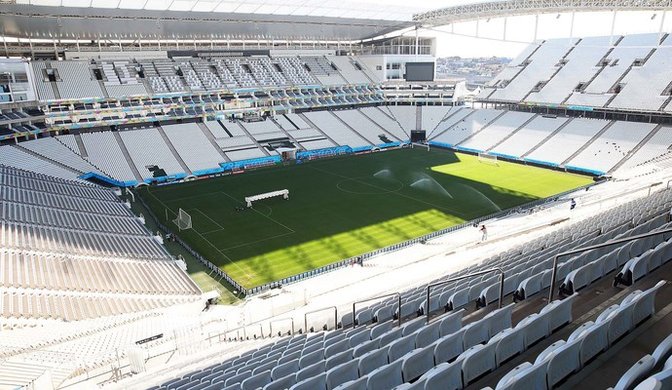 Exposed wires and unfitted lights hung from ceilings. Corridors and other areas smelling strongly of plaster, paint and glue were clogged with uninstalled furniture and fittings, piled up crates of catering equipment and construction materials waiting to be carted away.
Need more pressure? Keep in mind the stadium had no test game to use more than 60% of its capacity. In practice this means that tonight's sell-out crowd, even if lower than anticipated, will give the stadium a first complete test. Two tests with attendances of under 40,000 suggest the stadium is ready, but there's still uncertainty surrounding the game.
"If that was me who had to run that event, I'd be extremely nervous," said John Beattie, president of the European Stadium and Safety Management Association, an industry group of sports-venue executives.
The pressure on Brazilian national team seems to be about more than just national pride or proving their position in global football. It's also about actually saying 'we made it' at the construction site.