Poland: Safe standing to be legalised soon
source: RP.pl / StadiumDB.com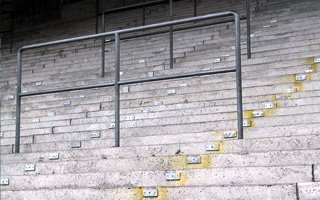 Great news for traditional fans came from the Polish legislature today. Amendment to the Mass Event Safety Act is expected to allow standing sections back inside stadiums already this summer!
Yesterday the parliamentary Subcommission for Mass Event Safety Act (UoBIM) Amendment agreed the document to be submitted for reading. One of its most important points is officially allowing non-seated spectator areas back into football stadiums.
The approval is very general and will be subject to further regulation by Ministry of Infrastructure, who will determine technical requirements for such stands. Only based on these guidelines clubs or municipalities will be allowed to re-introduce standing areas to their stadiums, including the top tier Ekstraklasa.
Introduction of 'safe standing' areas was long demanded by football fans, who very often don't respect the obligation of taking their seats. Many clubs with large following had to alter their stadium regulations to allow standing in seated sections where supporters did it anyway in their thousands. This considers mostly the most vocal sections in less attractive areas of stadiums, while remaining viewers are still usually asked to sit down by stewards.
The UoBIM amendment should be read in the parliament and subject to vote within weeks. This means it will go into force not long after the new league season begins. However, the timeline for Ministry of Infrastructure document isn't known at this point. This means that stadiums are not likely to change this year, while some may not be found eligible for a standing section creation, if not complying with the rules.
Re-introduction of standing areas was a long-held slogan of football fans, but in recent years was also strongly supported by Polish FA (PZPN) and the top league operator Ekstraklasa SA. Seats were enforced by government regulations in early 2000s, following suit of English stadium reforms from the 1990s.
Further changes coming?
More fan-friendly alterations may be done in the UoBIM Act, which was completely rethought ahead of Euro 2012 to satisfy UEFA. Currently anyone wanting to visit a league stadium is required to submit a fan card with one's photo and show personal ID to assure ownership of the ticket.
This measure was claimed to be anti-hooligan, but in reality seems to severely discourage many potential or rare viewers, as witnessed in attendance statistics. While most season-ticket holders and regular viewers are ready to take extra time to get through the turnstile, for many people who would just a single visit that may be too much.
In practice it sometimes proves a real pain also for fans who want to watch a game outside their own city. Each club may operate a different identification system and run varying policies, some strongly opposing people from outside their region (or even local owners of another club's fan card) entering stadiums as potential troublemakers.
Planned change may see the entire fan card scheme waived, just like the photo-database of all football fans that currently exists. One would only be required to have a ticket and ID upon entry to the stadium and in the desired case no-one would be banned from entry based only on where they live.