New stadium: Sammy Ofer Stadium
source: StadiumDB.com; author: michał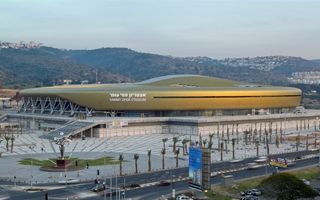 Israel's most interesting stadium was due to open last year, but still sees no use. From tomorrow first spectators will be allowed in, but not for football – not yet.
The new stadium in Haifa was expected to open its doors for the first time in 2013, but finishing works and more importantly trouble with pitch quality brought the project to a standstill just before finishing.
The situation will change tomorrow, because on June 25-30 first tourists will be allowed inside. Yes, tourists – Sammy Ofer Stadium will wait for first game until the new league season, when both Maccabi and Hapoel move in. First of the two teams even signed Yossi Benayoun to attract people and assure the side performs after relocation.

Photo: Haifa Economic Corporation
The conceptual design of Haifa's new stadium was first drawn in 2007, though the idea itself was much older. From the start the arena was to hold over 30,000 people, also from the start being planned to stand near the western coast of Haifa and being interconnected with retail and leisure development.
Contrary to most significant stadium projects in Israel, this one was delivered primarily by British KSS Group, who first designed the 2007 rendition, then changed it around in 2009. The final design included a key visual feature of golden ovoid blob sitting upon the concrete stands. Cornerstone was mounted back in 2009, but construction moved forward decisively in mid-2010.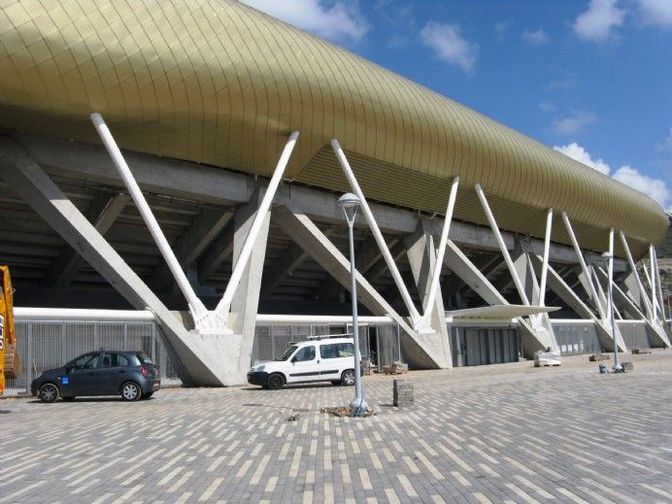 Photo: 2all.co.il
Already when the exterior was given final touches in the summer of 2013 it was clear that the architects' vision was implemented almost flawlessly, seeing the golden cladding shine proudly atop a rectangular podium the stadium was built on. Also, both stands and the roof are supported by a mixture of steel and concrete pillars that form an interesting pattern and hide bare concrete stands despite them not having a typical façade.

Photo: Haifa Economic Corporation
The project was estimated to cost some NIS 430 million back in 2009, but saw an increase already in the 2010 Haifa Economic Corporation projections, envisioning a 500+ price tag. In the end, this proved a more realistic vision as the stadium is now thought to have cost slightly over 500 million ($145m / €107m).
Because just under one fifth of the budget was donated by billionaire Sammy Ofer, the stadium was named after him. Remainder was founded by Haifa municipality (notably with revenue from the sale of previous stadium) and the state lottery.