New design: Stadium disguised as a tent
source: StadiumDB.com; author: michał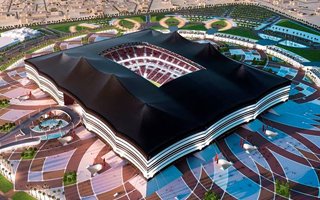 Very often stadiums have visibly inspirations or associations with local themes. This isn't the case, the new Al Khor Stadium in Qatar is very literally a Bedouin tent, far from loose inspiration.
Yesterday the Supreme Committee for Delivery and Legacy revealed the second final stadium design for the 2022 World Cup after Al Wakrah Stadium. Again the concept shows a stadium outside Doha, though only 40km north of the Qatari capital.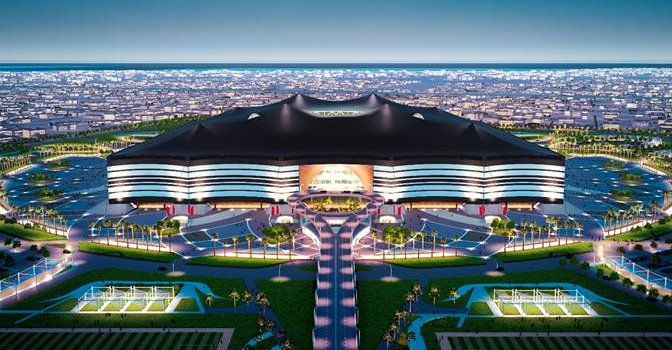 Image: Supreme Committee for Delivery and Legacy
The concept of new Al Khor stadium mimics the traditional Bedouin tent (Bayt Al Sha'ar), from which it also takes its name. Canvas-alike façade is dominated by black colour, but with strongly contrasting white stripes. In original tents, the stripes were a way of signaling which tribe or family the tent belongs to.
Even the main entrance, supplied with separate ramp for VIP entrance, was literally cut out from the façade. Also inside the stadium décor will resemble that from traditional tents with warm and cosy red color.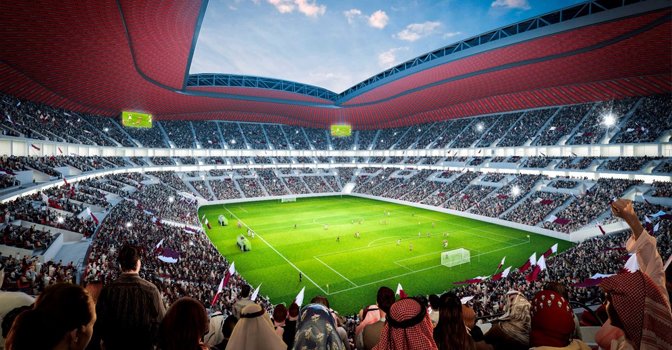 Image: Supreme Committee for Delivery and Legacy
The stands will be significantly larger than in original design from 2010, which was submitted to FIFA. Back then it was planned for 45,000 people, while current capacity stands at 60,000 to allow hosting one semi-final game in 2022. In turn, the entire upper tier will be removed in legacy mode, leaving only 32,000 seats (as seen below) for Al Khor SC.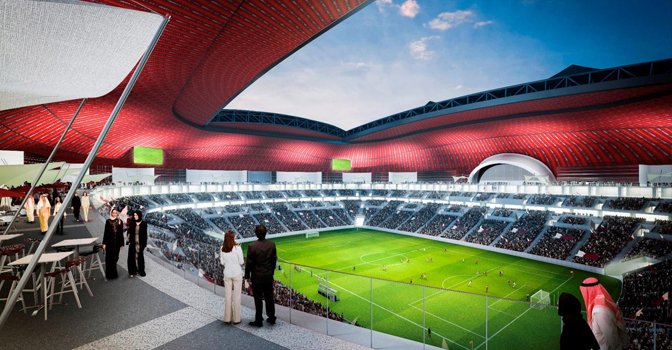 Image: Supreme Committee for Delivery and Legacy
The stadium, surrounded by impressively landscaped plazas and parking sites, will not only meet all FIFA criteria, but also environmental and sustainability guidelines set out by LEED and GSAS standards. The Supreme Committee assured the stadium was designed in a way to allow hosting football at moderate temperatures even in summer heat.