New design: DC United Stadium
source: StadiumDB.com; author: michał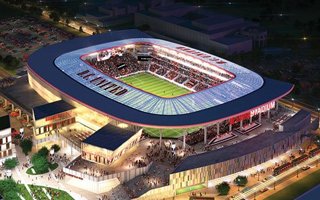 By the time this stadium is ready, it's going to be a decade since DC United have been trying to build their own ground. Will the latest renderings come to fruition? First answer soon, after DC Council vote.
DC United are still the most successful club in the MLS, but are yet to play a game at home. The club currently uses outdated, too big and unfit RFK Stadium. Meanwhile United have been on the lookout since 2006.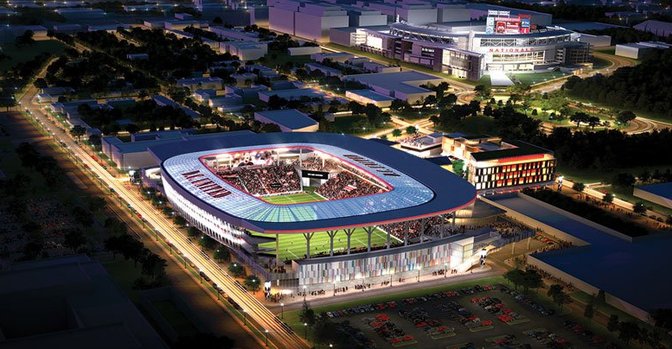 Img: DC United
The new stadium was already planned for Poplar Point, then even outside Washington, in Prince George's County. Now the home for DC United is planned at Buzzard Point, southern Washington. It's been under consideration since 2011. Progressing proved challenging due to ownership issues and construction of the new stadium is hoped to go forward with help of the city.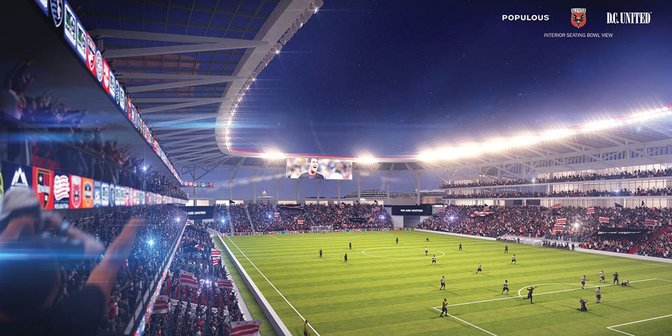 Img: DC United
Together with acquiring land and creating a commercial hub adjacent to the stadium, the project is priced at some $300 million. The club declares to put forward half of the amount and finance the stadium, but counts on city with the remainder.
Since early design works the stadium was planned to represent a 'European approach', providing covered and enclosed seating bowl. Detailed renderings were presented in recent days and timing is no accident here. On June 26 the DC Council will vote whether to support the proposed partnership between municipal authorities and the club.