Minneapolis: Giant crane begins arriving at Vikings Stadium construction
source: startribune.com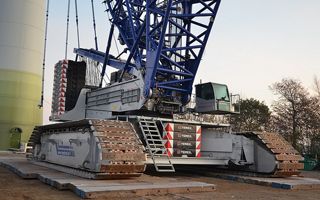 Starting today, a massive number of 70 truckloads will bring in Terex Demag CC6800, one of the largest crawler cranes in the world. It will operate on site for 15 months.
Its sole delivery will take 10 days and 70 truckloads. Then 11 days more for assembly. But once ready, the immense crawler crane will become part of Minneapolis skyline for 15 months.
Terex Demag CC6800 begins arriving today and will remain on site to install numerous elements, most notably the roof trusses. It's capable of lifting even elements of over 1,000 tons and its stunning height of 120 meters (400 feet) allows it to outgrow the planned stadium by far.
Worth almost $1 billion, the new stadium for Minneapolis Vikings is scheduled for opening in August 2016. Its glass roof will remain the unique feature, though the overall shape of the building also catches the eye, even if not entirely in a good way for many observers.
In 2018, two years after completion, the stadium will host its first SuperBowl.