Cyprus: New stadium for Limassol moving closer
source: incyprus.philenews.com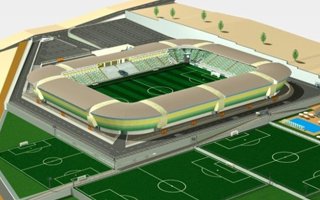 Greek architect is coming to Cyprus tomorrow to re-launch work on the new Limassol stadium. This time it's planned for three derby rivals, not two like previously.
Pedros Kontaridis, the man behind initial design from 2011, is coming to Limassol tomorrow to restart work on the project. With one major difference: his first work was for AEL and Aris, while Apollon was planning to build a different stadium. Now Apollon is also part of the scheme, so finding room for the club's fanshop is one of the changes awaiting implementations.

The remainder of the stadium should be very much like in the early renderings, though we may expect them not to be fully precise. As an example, the stadium's façade is said to glow at night, but the renderings don't give an answer what technology will be used.
The future stadium for 12,000 people (450 VIP, 400 business and 2,650 away fans) is expected to cost some €15-17 million, including 4 training pitches and underground parking. The rectangular stadium will be the first in Cyprus to cover all seats.

The western Kolossi district is designated as future location, because all three clubs were given land in that area for their respective stadiums 20 years ago. Now they're jointly forming two companies: one to manage land and the project, the other to run the stadium daily.
The project gained public support, last month receiving a promise of help from the country's president Nikos Anastasiadis. Financially the stadium should be financed by a private entity and then paid back by the government in long-term installments.
Construction tender is expected to begin very soon and if it ends timely, groundbreaking should take place by year end. The new arena should be ready within 2 years, replacing the outdated Tsirion, which currently houses all three teams.