Budapest: Construction ends as planned for Ferencváros
source: sporthiradio.hu / StadiumDB.com
Though final touches are being added outside the stadium, it's ready as planned. 14 months was a very tight time frame, but Hungary's largest sports project has kept it.
The museum exhibition is already in place. Vertical garden at the reception desk is in place, while bistro, restaurant, bar, skyboxes and conference rooms await their first guests too. The new Flórian Albert stadium is ready to be handed over to Ferencváros ahead of the 2014/15 season.
The project is undergoing commissioning procedures at the moment, before finally being launched into operation. Its concrete structure is the largest across Budapest, while the steel used to cover the stands is more than in any other Hungarian building. This may change as a much larger national stadium is planned, but for the time being all of it sounds impressive.
Even more impressive is the delivery time of just 14 months. Already upon groundbreaking the federal coordinator Balazs Fürjes emphasized this is a very tight deadline, but in the end construction didn't experience any delays. To keep up with the schedule the project required great coordination of 3,000 people hired for varying tasks on and off the site.
Also, the budget of HUF 14 billion (€46m / $62m) didn't see significant changes, which isn't always the case with stadiums, especially when construction pace is at stake.
The new stadium will offer modern amenities for fans of all groups, including 29 skyboxes, a non-cash payment system, 200 LCD screens and many more features.
The governmental coordinator expects average attendances of some 15,000 per game for 'Fradi' league fixtures and sell-out crowds for national team games. The stadium will serve as temporary national stadium while current Ferenc Puskas Stadium will be demolished and rebuilt.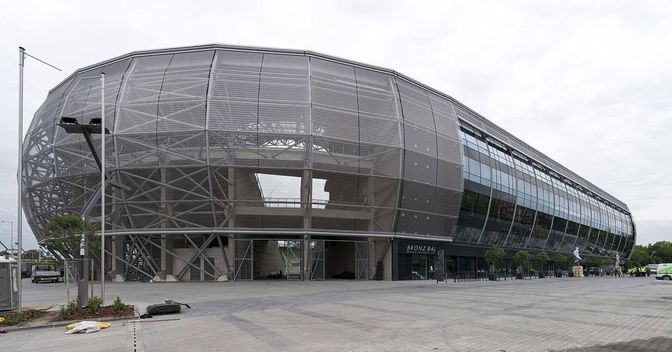 Photo: Peter Molnar, Market.hu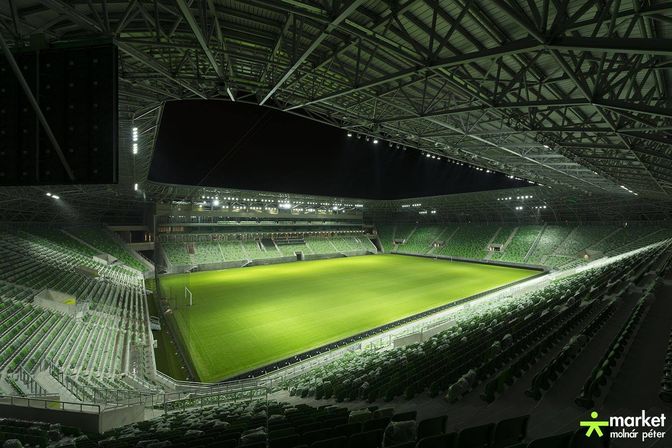 Photo: Peter Molnar, Market.hu