Bristol: Contractor named, City prepare for demolition
source: bristol-sport.co.uk; author: michał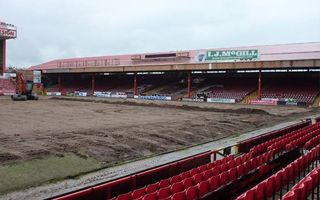 As expected by local media, Barr Construction will redevelop Ashton Gate into a 27,000-capacity modern stadium. Works on new south end will begin in July.
Bristol Sport, the company owning both Bristol City and Ashton Gate, announced today that Barr Construction was selected to redevelop the stadium by 2016. The contract worth an estimated £45 million includes a brand new south stand, expanded west side and renovation of both north and east stands.
First phase will be the Wedlock Stand, 86-year-old south end. Preparatory works are in full swing already. All detachable elements are being removed before demolition begins, while seats were offered to fans as souvenirs back in May, each at £10.
A modern, though not entirely new stadium is expected to welcome fans in 2016, though matches of both football and rugby are expected to be held here throughout the process. The 27,000-capacity stadium will accommodate significant sections of safe standing areas, allowing both seats and terrace railings to be used by fans.
This isn't the first such project for Barr Construction. The company has already revamped Celtic Park in Glasgow and built the St. Mary's Stadium in Southampton, among other works.