Brazil: Their World Cup is over, what now?
source: StadiumDB.com; author: michał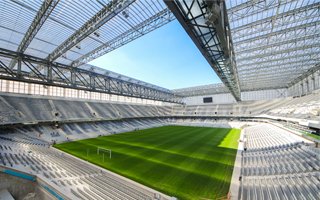 Contrary to many media outlets, we don't find these Brazilian stadiums a result of vanity, even if the risk of becoming white elephants is real in all but one case. As group phase ends, four stadium bid farewell to the World Cup and have to move on. To what?
It's a problem many host countries face. One game after another and another and… that's it. After seven years of preparations all they got was 10 days of the tournament. Last tourists will soon leave and the festive mode (and mood!) will be replaced by daily life.
Just as predicted, the cities got to feel the World's largest football tournaments and may take pride in hosting it, but the revenue will be gone along with FIFA, who haven't paid a single reais of taxes here.
Before we take a look at the four cities that were given only four games each, we need to clarify one thing: contrary to some media we believe that stadiums aren't only built to make ends meet, they've got a very important social role to play and should never be judged only by numbers. However, they should in every case be built to suit demand in the long term, not just the short tournament period. This is what the four arenas are in for as their World Cup ends: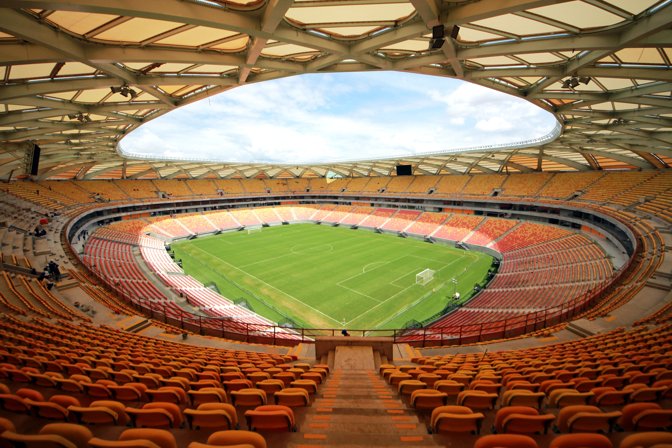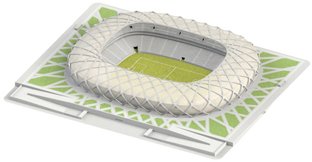 World Cup attendance: 160,227. Most often nicknamed a 'vanity project' in Western media, this stadium was built in the most remote location of the tournament, in the middle of the jungle. And in terms of football use we may assume the attendance of 40,322 from Honduras – Switzerland match will remain local record for a long time. Local side Nacional, expected to take up tenancy of the ground, is hardly a team to compete with such crowds as it plays in the regional championship only and is moving here from a 5,000-capacity stadium. Without exceeding 20,000+ on average it's hard to consider it a financial asset for the stadium. As if this wasn't enough, it was very expensive after parts had to be shipped from thousands of miles away.
All of the above is widely emphasized by media outlets in and outside Brazil. But this stadium's story has a second side. Sure, Manaus does lie in the middle of the jungle, but there are almost 2 million people living right in that middle and it shouldn't be argued that a city of this size deserves a decent stadium for mass events of various kinds. Especially that the now demolished Vivaldao had seen crowds of almost 60,000 in its history, even if at times only.
Surely the stadium could have been cheaper, but with its very high standard in sustainable design and effectiveness in water reuse, it's not low value for money by far. Its designer, architect Volkwin Marg recently expressed a view that he's tired of stadiums being judged only by their revenue/loss. After all, he reminded the public, most stadiums generate loss, because their primary role is not business, but social. And what Manaus received is a new landmark and multi-use arena.
Of course its cost and long-term use are hot issues and rightly so. Worth almost R$670 million ($305m / €225m), the stadium will now be operated and repaid to the federal bank by the Amazonas state authorities. But it already has an exhibition game planned for July, once FIFA leave, and talks over potential establishing of an Amazon edition of Rock in Rio festival are ongoing. Quite literally the World Cup has put Manaus on the map for the blooming Brazilian entertainment business and that's one major advantage the city has without funding the stadium itself.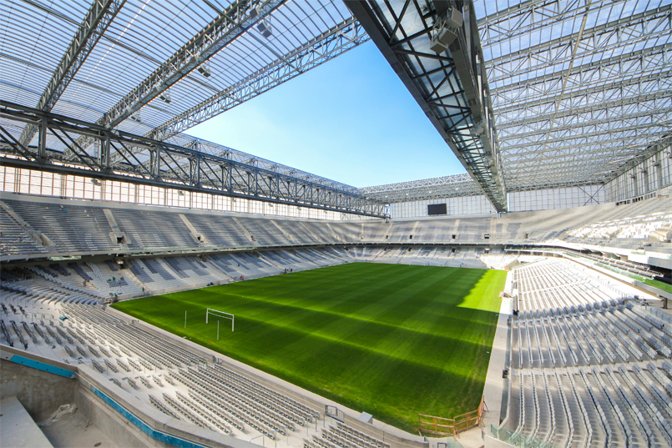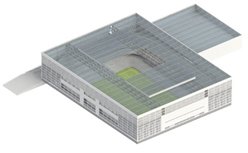 Four group games brought 156,991 people to Curitiba. That's 39,247 on average – a rate the stadium owner and operator Atletico Paranaense might not see too soon. Still, there's no fear about this arena's long term sustainability. First of all – it's in the club's hands, public authorities aren't involved in stadium operations and don't bear the burden. Second – Curitiba also has almost 2 million inhabitants, is considered a progressive and developed city. Demand is there, making the stadium benefit from that is what Atletico need to do.
Week-to-week use seems fairly safe. Already before moving out the club had attendances of over 50% and now additional revenue is to be provided by concerts and other large events, for which the stadium has been rethought ahead of the World Cup.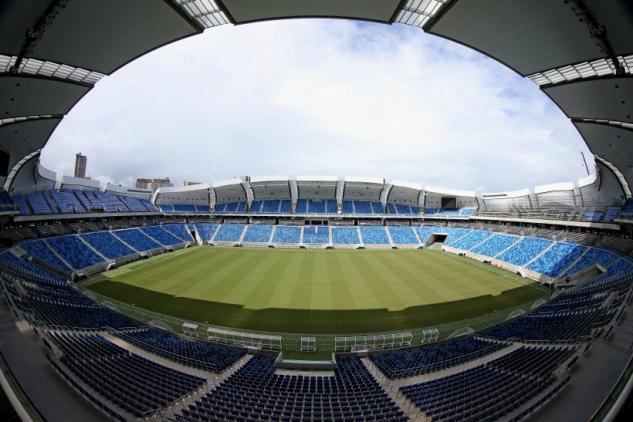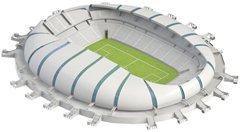 Visited by 158,167 people over the last several days, this stadium may also not see such crowds in the future. Not only because of insufficient demand, but mostly due to temporary stands awaiting to be removed.
Capacity will soon fall back to just over 31,000, which seems a sensible plan with local team America playing in the second league. The stadium is smaller in terms of blueprint and capacity than its predecessor, the vast Machadao. While regular games are very unlikely to fill it, potential promotion and some attractive fixtures should see no problem in making good use of the capacity left after FIFA leaves.
What may be alarming is that America, expected to be the anchor tenants, is planning a stadium of their own. The 20,000+ facility is already under construction, but its fate is unclear. The project hasn't been progressing as planned to date. If America leaves Natal to play in the suburbs, Arena das Dunas may face event shortage. But whether this will happen definitely – we weren't able to assess at this time.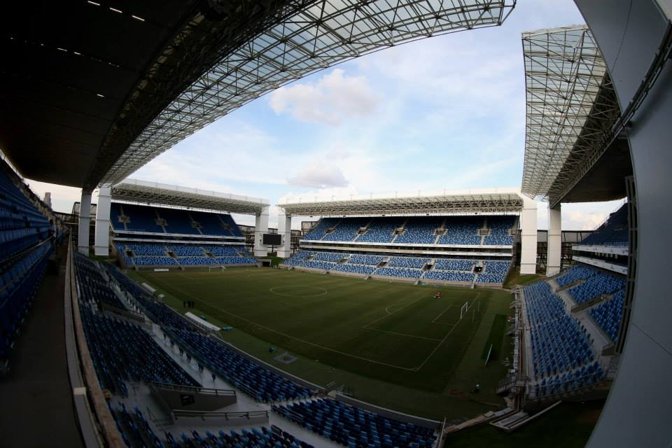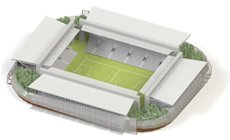 After 158,717 people went through the stadium in recent days, future use may sound very humbly. Especially that Cuiaba shares some of the issues visible in Manaus. It's very remote, a long 21-hour bus trip from Sao Paulo (which turned into a dramatic 36-hour trip for Nigerian fans recently) and very unlikely destination to draw crowds from other regions.
There's also no top tier or even 2nd league team in the city or its vicinity. Three local sides expected to take up at least partial tenancy (Mixto, Cuiaba EC and Dom Bosco) all play in the 3rd league or lower, thus not promising large turnout. Still, there is a legacy plan for the World Cup's smallest city, under 600,000 population. The stadium is planned to be downsized to 24,000-27,000, depending on final configuration, cost and future use for the temporary end sections. The size sounds more than proper for regional and local events, even if not regular football weekends.