Amsterdam: Record turf relaying at ArenA
source: NWEmail.co.uk; author: michał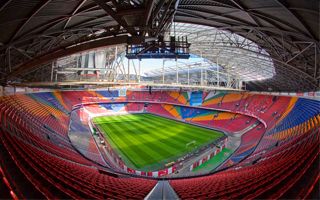 Removing the old field and covering the ground with fresh grass was delivered in just 14 hours. Operations this fast are a rare sight, but is the quality high enough? We'll know after today's game.
After the closure of Eredivisie season Amsterdam ArenA received its new football field. As in previous operations of this kind since 2000, the task was carried out by British contractor SIS Pitches.
This time the team have outdone themselves, setting a new record. Removing nearly 10,000 sqm of used grass with the same amount of freshly delivered turf took them just 14 hours and 7 minutes. Their previous best time was 18 hours.
An obvious question that should arise is whether super-fast relaying didn't challenge the field's quality. This will be seen tonight as the Netherlands meet Wales in a World Cup warm-up friendly.
Worth mentioning, the Amsterdam ArenA had suffered from severe field issues ever since it opened in 1996. Being the first stadium to hold a retractable domed roof, it offered insufficient sunlight access and poor ventilation, causing returfing operations up to 5 times per year. This crisis was remedied significantly with the investment in wind turbines and lamps.