Washington: MLS stadium scheme submitted to council
source: MLSSoccer.com; author: michał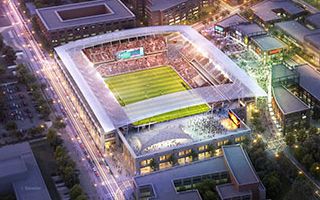 D.C. Mayor Vincent Gray announced he reached an agreement with DC United. He also submitted legislation to the D.C. Council that would outline his plan to build the desired stadium.
Gray and City Administrator Allen Lew told reporters earlier last week that they'd introduce the bill on Friday. The document was filed as promised and represents the outcome of Gray's agreement with DC United.
The city has agreed to pay $150 million for land acquisition and infrastructure to support the stadium in southwest Washington. The team would pay $150 million to build the stadium itself.
Gray and Lew said this week that the city has yet to reach an agreement with some landowners on the site and may have to use eminent domain to acquire the parcels.
Some D.C. councilmembers, including mayoral candidates Muriel Bowser and David Catania, have expressed concerns about the stadium deal.