Tokyo: Pieces of old national stadium to go nationwide
source: Yomiuri.co.jp; author: michał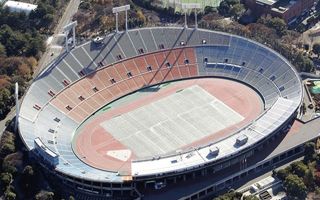 As part of the farewell to Japan's old national stadium some elements will be reused in other venues across the country. The remainder may be converted to souvenirs distributed among fans, according to Yomiuri Shinbun.
While Japanese supporters bid their farewell to Kokuritsu Kyōgijō during stadium tours, plans to re-use some of its equipment are already in place. As demolition begins in July, pieces of the stadium will begin their second life.
A portion of the seats, namely 6,200, will be transported north to Kitakami. The stadium in Kitakami will host such events as the opening ceremony of the Iwate National Athletic Meet in 2016, but 16 years have passed since it was built in 1998 and its current seats are becoming worn. Kitakami asked for the seats already in January.
Similarly, pieces of the main playing field will be distributed among middle and high schools upon request. The turf will most likely be used in youth football championships.
It's been clear for months that the Olympic Cauldron of 1964 will be saved. Upon demolition it will leave Tokyo and travel around the country, returning once the new stadium is delivered in 2019.
Remainder of the stadium's structure, possibly including pieces of concrete, may be transformed into souvenirs and sold to people throughout Japan. The revenue would most likely support new stadium's budget, expected to be among the world's highest.