Sao Paulo: Already seven opening games at Itaquerão
source: StadiumDB.com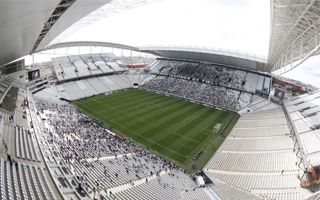 And the last 8th one will come next Sunday. Yesterday Corinthians fans watched 6 exhibition games with roughly a quarter of all capacity available to supporters.
Arena Corinthians, nicknamed Itaquerão after its location, is one of most delayed stadiums built for any World Cup ever. Starting tomorrow the countdown goes into last month before the 2014 tournament and works go on, thankfully mostly on the temporary infrastructure.
Ever since the project was included as opening arena for the World Cup, it was marred with delays, even before construction began. There were financial deadlocks as Corinthians didn't agree to cover the temporary infrastructure. Later the public contribution was delayed, slowing down progress. So the deadline for construction was extended much beyond what other venues initially had, to December 2013.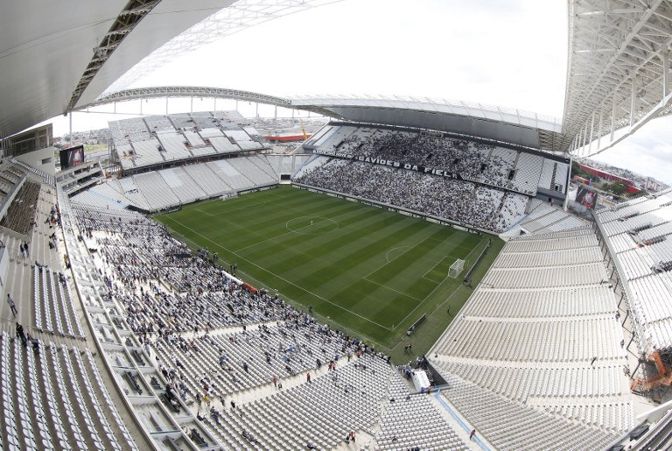 Keeping it turned out impossible in late November, as the crane carrying last roof segment collapsed onto the stand, killing two people. Works were then switched for delivery in mid-April, but that didn't happen as well. As a result, the first test-event on May 1 saw workers playing on the field with a handful of spectators, while their colleagues were still on work shifts at the site.
Yesterday another test happened, this time with both side stands opened to the public. Roughly 17,000 people watched 6 short (15-minute) games of current and past squads of Corinthians players. The club later informed there were still some things to be corrected in terms of logistics, but overall the event was welcomed as a positive attempt.
Next Sunday (May 18) at 4pm the very first game of Serie A (and 8th test/opening match overall) will take place at the new stadium. StadiumDB.com understands all permanent stands will be opened to the public. It's unclear whether the temporary upper decks on both ends will be available as details are to be announced on Monday. On Tuesday tickets go on sale for the match, which will be the most crucial test for Arena Corinthians.