New stadiums: Campinas derby and heart of São Caetano
source: StadiumDB.com; author: michał
Two large stadiums built just meters apart? "Why not!", thought officials of Ponte Preta and Guarani in 1940s, ending up with two extraordinary stories of their home grounds. Third we also add the São Caetano stadium.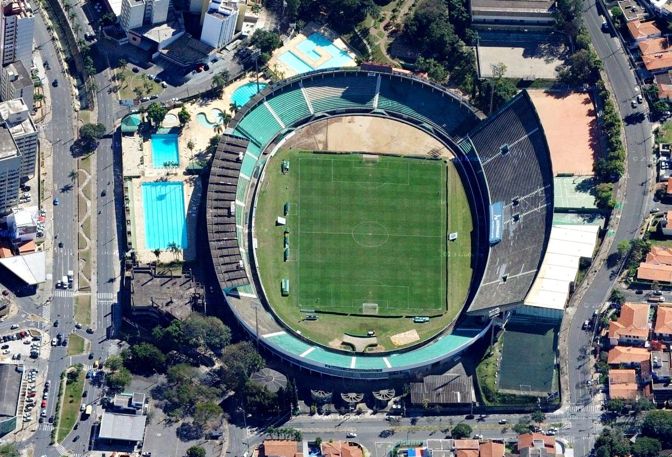 In exact translation, this stadium's name means "The Princess's Golden Earring". Sounds bizarre? The story behind naming it this way is indeed unique. In 1948, just after beating derby rivals Ponte Preta, Guarani FC presented the model of their desired new stadium. In miniature it resembled an earring and with the city of Campinas being called "The Princess of the West", one of the journalists used the metaphor in his article. The nickname reached great popularity and was voted by the public as the desired name, remaining to date.
The sole idea of building a new stadium was also directly linked to Ponte Preta derby rivalry. The neighbouring club was already building their own stadium, while Guarani were struggling with theirs, outdated and impossible to expand. After considering several location, they finally settled on a plot just 700 meters from that of Ponte Preta.

Construction was launched in 1951 and with the secured funding (part of it came from league authorities, but most was donated among the Guarani community) it was opened in 1953. Ironically, the stadium didn't last long in its original 'earring' shape, having both end zones redeveloped completely between 1960 and 1970. In-between (1964), floodlight masts were installed.
Finally, when Guarani won their first domestic championship in 1978, the club went forward and began construction the huge eastern upper deck. Holding roughly 15,000 people, the stand made the stadium largest in Campinas and beyond at up to 53,000.
But the historical success was never repeated. Thus, the upper deck completed in 1980 was soon not needed as crowds began to fall. As the new century began, Guarani were relegated to the third division and plans for a newer, much smaller stadium were presented in 2013, suggesting 21,450 capacity.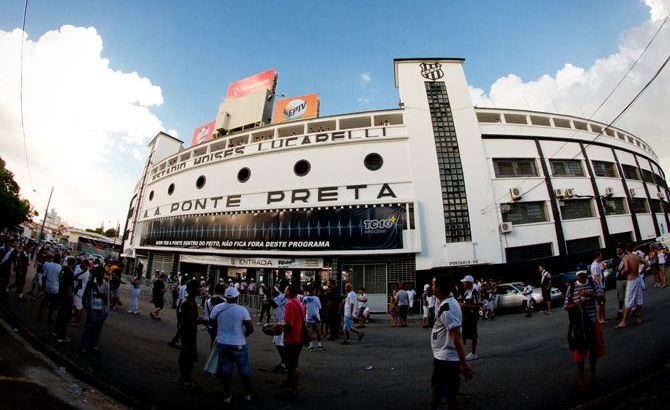 Though little-known to today's football fans worldwide, this stadium in Campinas has a very interesting and rich history, once being among Brazil's most impressive. And, very significantly, it remains one of very few 100%-privately built stadiums in the country.
The dream launched already in 1900 began coming to fruition thanks to Moyses Lucarelli, entrepreneur and leader of Ponte Preta football club. In 1940s he launched various campaigns to raise funds and other resources. Notably, in 1946 in just two months the club gather a quarter million bricks in a 'Caravan of 250,000 bricks' action. This along other donations allowed for construction to begin in 1947. Within a year the first game was possible to take place, though construction only finished in 1960!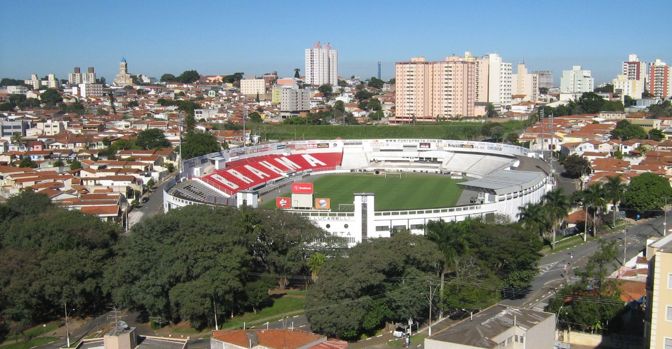 Upon opening the stadium could accommodate 35,000 people, becoming the third largest across Brazil and earning the nickname Majestoso (Majestic). And while its size wasn't impressive for long with the new 1950 World Cup venues, the nickname prevailed.
The walls existing to this day, especially the impressive art deco eastern gate, are the very same that were built in 1947-1960, even if renovated several times. Inside the history proved a slight burden as the old audience layout puts fans behind goals far away from the pitch. Recent years saw Ponte Preta use this situation to provide… 38 parking spaces between fans and the pitch in the east.
Interestingly, the man behind Ponte Preta's private stadium refused to become the stadium's patron. It wasn't until he left the country temporarily that other stakeholders secretly wrote his name into the stadium's, also changing the original spelling (Moises instead of Moyses).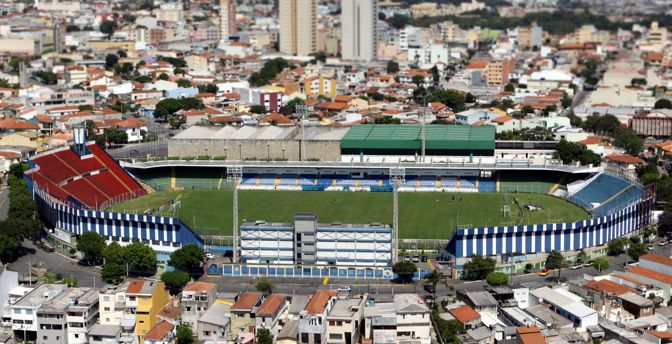 Lying almost at the heart of São Caetano (south part of the Sao Paulo metropolis), this stadium was built in 1955 as part of so called Olympic complex. Set inside an oval plot it is to date limited in terms of potential development.
The land is too small to build significant modern stands and so the stadium has several smaller sections, created independently from one-another. Also, the main grandstand in the west is conjoined with indoor facilities, which don't allow for it to be expanded.
First major revamp came in 1989, when local AD São Caetano reached the central tier of Brazilian football. Further works were carried out in 2007-2008, 2012 and 2014, but this time regardless of diminishing position in domestic leagues. Possible best moment in its history came in 2001, as AD São Caetano played against Atletico Paranaense in the top league final in front of almost 20,000.
The name comes from Anacleto Campanella, mayor of the city for 8 years and one of the initiators of this stadium.