New stadium: Luxembourg's national ground that never was
source: StadiumDB.com; author: michał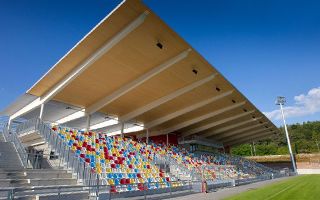 In 2012 one stand was opened. Soon afterwards plan was drawn for additional two and as a result UEFA-compliant national stadium. The plan fell through, but it's still arguably the best stadium in Luxembourg.
Luxembourg is one of the countries of which not many people talk in terms of football. And that's a crying shame, because both the league system and number of interesting grounds could surprise many people! As a great example we're adding the modern municipal stadium in Differdange today.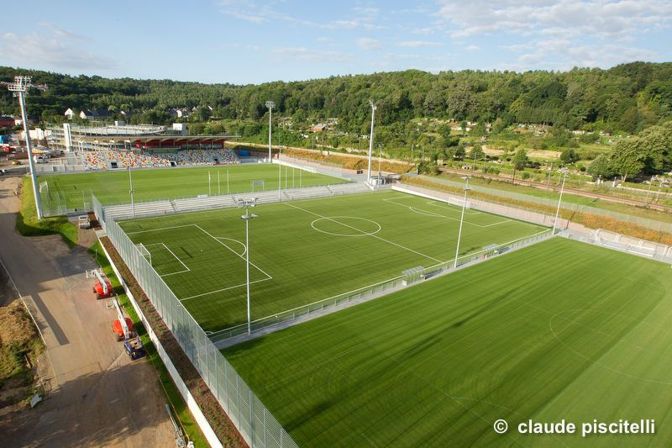 Photo: Claude Piscitelli
Construction of a new stadium to replace the outdated predecessor began in May 2011. This time two football fields and one stand weren't a separate scheme, but part of a larger PPP project (€21 million worth) that also delivered new swimming pool and multi-level car park for 549 vehicles.
Since its opening in the summer of 2012 the stadium has been used by two clubs on various occasions, the larger Differdange for more prestigious games and more local CS Oberkorn on a regular basis. While domestic capacity exceeds 2,000 with standing room around the field, UEFA capacity it 1,800 at the main grandstand.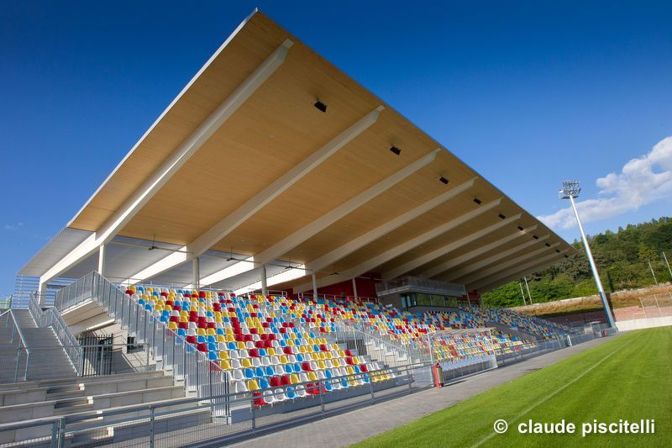 Photo: Claude Piscitelli
Just a few months after opening Differdange authorities suggested to build a larger north side and an east end too (west side is limited by rail) to create a 8,200-capacity national stadium for Luxembourg. The plan was economically viable at just €13 million, but was eventually dropped.
Instead, in 2013 decision was reached to build a brand new national stadium by the southern bypass of Luxembourg, some 20km east of Oberkorn. The new location has major traffic advantages with both the highway bypass and the country's first tram line serving future fans.