New designs: End of exile for the "Romantic Traveler"?
source: StadiumDB.com / SantiagoTimes.cl; author: michał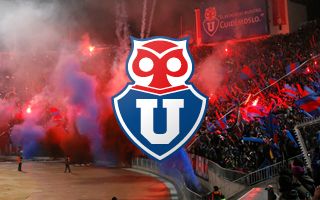 It may sound like a really odd nickname for any football club, but there aren't many clubs worldwide that haven't got a stadium to call their own despite almost 90 years of success! Will this change for Universidad de Chile?
In terms of Popularity, Chilean football has two powerhouses and the rest. And while Colo-Colo is considered the most supported club, Universidad de Chile is also one of South America's most recognized clubs.
But despite 87 years in operation and numerous successes, U de Chile never had a stadium to call their own. Own not even legally, simply one ground they would get hold of as anchor tenant in the long run.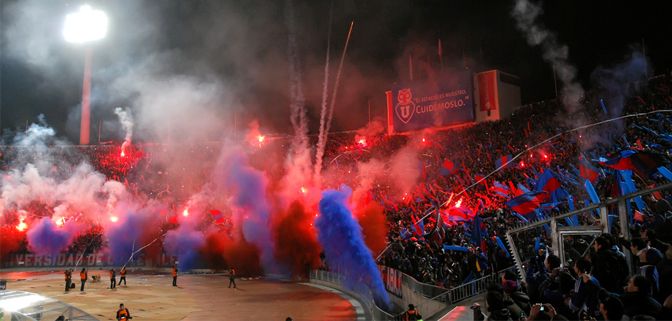 While games of the Romantic Traveller (Romántico Viajero) are usually associated to the national stadium, it's not always Estadio Nacional for U supporters. Some games are spread across other capital venues, while in 2009 fans had to travel almost 470km (!) to Coquimbo to play their "home" game against Cobreloa. And still the stadium was packed with well over 10,000 people.
It's clear that Universidad's potential is huge, but so far history wasn't kind for attempts to build an own piece of land. The closest U de Chile ever got to their desired home was in 1971, when they got a site in wealthy Santiago suburbs of Las Condes. But the plans were scrapped by the military coup two years later. Recent years brought further concepts of a private stadium, but none came as close to being built.
The Peruvian dream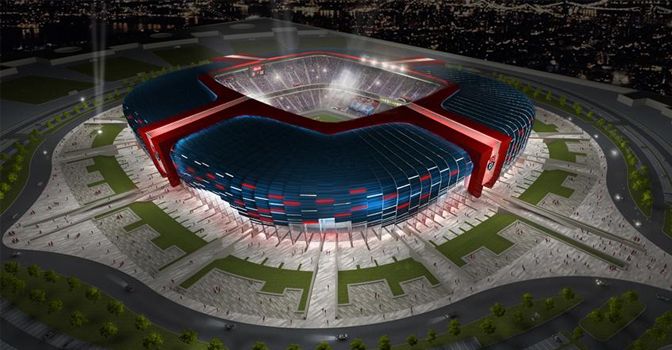 Another impressive attempt circulated Chilean sports media in early April. A proposal submitted by Peruvian architect Ricardo Rocha Ramos got a very positive response from fans, but was only a proposal, the design wasn't commissioned by Universidad.
Still, the plan worked as a reminder with its promise of a modern, double-tiered, fully enclosed stands soaked in club colours and symbols. But the eye-catching aesthetics would have to come at a very serious price…
Pragmatic reality
Instead Universidad presented a plan of their own by the end of April. New Universidad de Chile president Carlos Heller assured building the desired stadium is his priority. He took over at Azul Azul, the club's administrative entity, who have been trying for a few years now to find a suitable spot for the stadium.
Just after Heller began his work, a scheme was presented for Pudahuel, in western outskirts of Santiago, just off Ruta 68, the central highway. Packed between a tall hill and water canal, the stadium and adjacent sports complex are to cover 65 hectares in total. Pudahuel mayor Johnny Carrasco supports the plan, though he assures public consultations will soon follow, while Universidad need to go through the entire administrative course yet.
Closest to Ruta 68 would be the stadium, very simple and cost-effective. Its final capacity should be around 30,000-35,000, mostly on a single tier enclosing the pitch. Only the south curve was presented to have an upper deck too.
The stadium itself would cover 34 hectares, while north of it 28 hectares of public leisure grounds are envisaged. Tennis courts, football fields, trekking routes, downhill tracks and many other attractions are to be available throughout the week, but not all on matchdays. Some of the spaces would then be temporarily used for parking. Finally, northernmost new club offices and football training fields would be located, covering 3.5 hectares.
Not to cause jams of Ruta 68 on mtachdays, the club plans to provide three access hubs to parkings around the stadium, while shuttle buses are expected to persuade supporters not to take their own cars.
Universidad chief Heller gave himself time until 2017 to give the Romantic Traveler a place to call home.