New design: Grimsby Community Stadium
source: StadiumDB.com; author: michał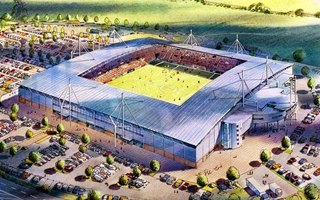 They've been playing at their current ground since the nineteenth century. Efforts to relocate already date back 20 years. No wonder Grimsby Town supporters are now mobilizing to gain support for this project.
The plan of building Grimsby Town a new home emerged in 1994. Since then various locations were named, but none passed far enough to see groundbreaking. Today the club hopes to build along Peak Parkway.
This southern access road to Grimsby is quite distant from current Blundell Park, but sentiments need to be put aside. According to supporters of the Mariners Trust, "Quite simply, as much as it holds fond memories for a lot of people, Blundell Park is not fit-for-purpose when it comes to hosting modern day football."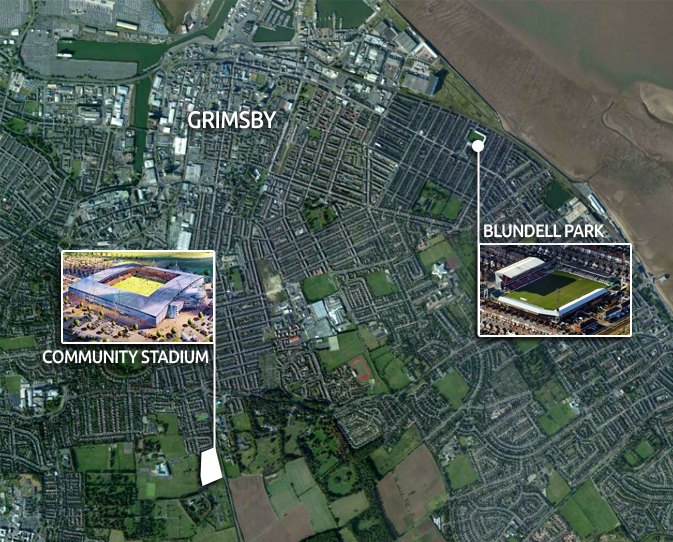 It's hard to argue, as the outdated stadium dates back to the nineteenth century and still has facilities from 1901 (!) in use. It was built before the mass introduction of cars and over the years became surrounded with housing. There's neither room for expansion, nor for proper parking facilities.
This is why Peak Parkway makes more sense. The nearly 23-hectare piece of land is owned by Grimsby municipality and has no use at this point. Why not a 14,000-capacity football stadium, then? Especially with educational and healthcare facilities, also surrounded by public sports fields for varying disciplines. These advantages are expected to earn the plan a 'community asset' status and convince those unsure about it.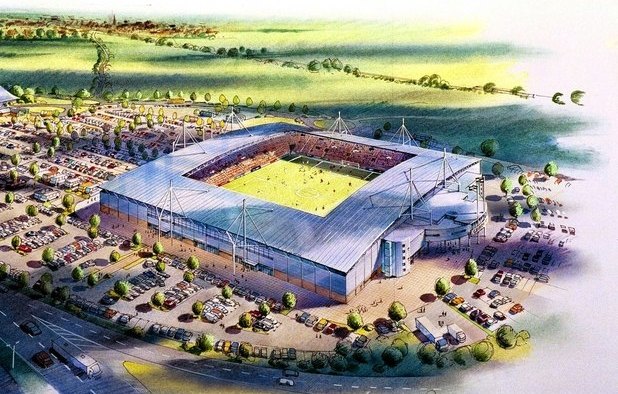 And there are quite a few concerned neighbours. The stadium is planned not far from local hospice, crematorium, cemetery and private gardens, which all have their peaceful ambience potentially threatened by the development.
Especially that the stadium wouldn't be the only new building. Hotel, petrol station or a retail store are all possible next to it. Grimsby Town need private partners for the development and the mentioned enterprises might contribute to the overall budget. While the club are expected to sell Blundell Park, this might fall well short of the desired funds without more partners. Possible developer to carry out works was already mentioned – it's Simons Development Ltd.
Will supporters win over the opposition with nearly 500 names last year? Within just days the Grimsby Town proposal received over 3,000 signatures under a petition supporting the Community Stadium. Now volunteers are expected to reach local community and address noise and traffic issues raised so far.