London: Court dropped the case, but Arsenal banned its fan
source: StadiumDB.com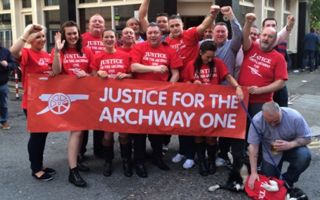 Mick Doherty found in a painful way that the institution of 'club banning order' is controversial. Police suggested his club to ban him, even though charges against Mick were unrelated to any football game.
Mick Doherty took part in a fight after the Arsenal-Tottenham derby back in 2012. The confrontation wasn't related to the game, however, rather an unfortunate outcome of an argument with one of his friends in a pub. No-one pressed charges, but police officers on site decided to settle the case in court.
The supporter confessed, was found guilty of public order offence and served 180 hours of community service. He also resigned from his post at the boxing club he worked with, but his resignation was not accepted. Not without a reason, over the years Mick helped raise more than £140,000 for the non-profit organisation.
His fundraising efforts came to an end as he was banned from attending Arsenal games. Not in court, because the judge ruled it had nothing to do with football and is no basis for a banning order. Still, the police knowingly misled Arsenal, not informing the club of court's ruling, advising to ban Mick from all home games.
Since late 2012 the fan has appealed to the club, filed a complaint to the internal affairs commission within the police, but remains barred from Emirates Stadium, where his fundraising took place over the years.
The odd situation continues today, though almost 2,000 people signed a petition to waive the ban. Mick even has politicians backing him, but despite his offence having no relation to football, he is still banned by the club.
"The original decision which prevents him attending any fixtures or events at Emirates Stadium was based on evidence and consultation with the Metropolitan Police. We have no plans to overturn Mr Doherty's ban at this time." – this was the statement by Arsenal in 2013 and remains today.