Florida: Tax rebate for Orlando and Miami stadiums?
source: StadiumDB.com; author: michał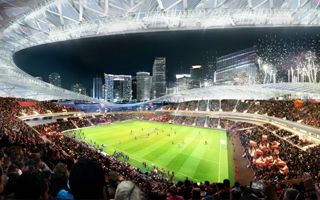 It's considered a step forward for the planned MLS stadia, but newest bill by the state of Florida may not boost the projects as much as expected. In short, all new stadiums priced at over $100 million may count on up to $3 million in tax rebate.
Florida has been one of North American soccer / football hot spots in recent months. There are currently two MLS clubs planned here and so are their stadiums. Now each of them may be subject to a tax rebate, based on recent HB7095 bill.
Based on this legislature each investor may apply for up to $3 million, but his project has to be valued at $100 million or more. This requirement is met easily by the planned Miami port stadium of David Beckham's new team, but may not be realistic for the new MLS stadium in Orlando, estimated between $85 and $100 million.
Of course the bill facilitates the route towards building or revamping sports infrastructure, but is no guarantee of these stadiums getting done. Just as expected, the Miami project had been met with fierce opposition from PortMiami companies, most notably Royal Carribean.
They formed the Miami Seaport Alliance and are determined to block the 25,000-capacity stadium at PortMiami. The argument behind opposition is that the stadium threatens the port's daily operation, traffic, logistics and employment, while offers very limited benefits in return.