England: Fan dies following his club's relegation
source: StadiumDB.com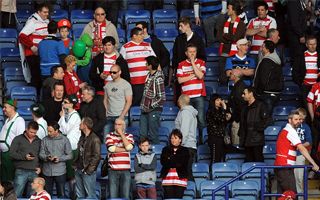 The away game in Leicester was very sad for Doncaster Rovers fans, who suffered a defeat and unexpected relegation. One fan died from aneurysm despite rescue efforts.
Roughly 2,000 Doncaster Rovers supporters made their way to Leicester on Saturday. The game's outcome was decisive for them remaining or leaving in the Championship.
For over 70 minutes relegation seemed distant as the game against Leicester City was goalless. At the same time Birmingham City, direct competitor for leaving the relegation zone, was trailing by 2 goals in Bolton.
But then in 75th minute Doncaster lost a goal, while Birmingham scored their first a few minutes later. Then finally the unexpected happened in 93rd minute, when Birmingham tied 2:2 with Bolton and pushed Doncaster into the relegation zone.
According to some eyewitness statements, shortly afterwards Ray Dunning, lifelong fan of Doncaster, collapsed in the away section. Despite 20 minutes of efforts to revive him, he was announced dead in hospital. Ray's death was caused by aneurysm, which reacts to blood pressure changes, also highly stressful or exhausting situations.
While relegation wasn't necessarily the trigger, Ray's wife Angela later stated that her husband died doing what he loved. Angela was with him in the away enclosure at King Power Stadium.
-----
Another saddening event unfolded on Sunday at Millennium Stadium in Cardiff, where the SWALEC Cup (Welsh Rugby Challenge Cup) was decided. Pontypridd RFC won the trophy, but lost a lifelong fan, Terry Walters. His death was caused by heart attack. The man in his 60s was a very active, commonly recognized supporter of the winning side for decades.