Edinburgh: Murrayfield naming rights sold
source: BBC.co.uk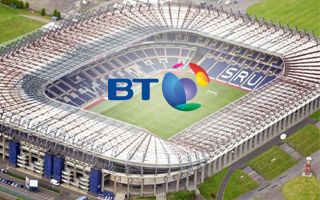 For the next four years the BT company will be promoted through Scotland's largest stadium's name. The deal, according to BBC, may be worth some £20 million.
Scottish national rugby stadium and largest sports ground in the country will change its name for a period of four years. The contract comes as no surprise, Scottish Rugby Union and BT were in talks for weeks.
Initially thought to cover 5-7 years, the contract is shorter, but BBC claim it's still worth nearly £20 million ($34m / €25m). Official value of the cooperation wasn't disclosed.
The deal is expected to relieve SRU from part of its £11 million debt and help develop grassroots programs for youth players.
"This new funding underlines our desire to deliver more opportunities for young people to take up our game and broaden the reach of rugby across Scotland," said Scottish Rugby chief executive Mark Dodson.