Canada: Impressive design for Roughriders unveiled
source: StadiumDB.com; author: michał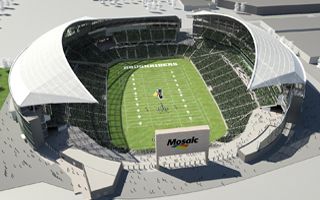 Considered crucial to the revitalization of Regina, the new stadium design was finally unveiled yesterday. Along renderings the new, quite familiar name was disclosed, starting the 20-year naming rights deal.
The plan to build a new municipal stadium in Regina has been on the table since 2012, when initial concept was revealed. Though it's not common for Canada or the US, all or most stands were announced to be covered, not denying the possibility of a retractable roof.
The latter solution is now certain to be dropped as presentation of the final design took place yesterday. The joint work of HKS Architects and B+H Architects is still very impressive, with or without the mobile cover. Dynamic, asymmetric and with one open end, the stadium catches the eye and surely stands out not only in Canada or North America.
Image: NewMosaicStadium.com
Of course this doesn't mean everyone has to like it, especially keeping in mind the opposition to Regina's new stadium scheme. Although the protesters aren't contesting the design, they're more about budget issues.
Of projected $278 million the city will need to spend most, contributing $73m from its own resources and further $100 of debt from the province. Provincial government also puts in a significant part with $80 million, while the Roughriders are left with a "modest" share of $25 million.
To convince those still unsure about the project, its official website emphasizes the advantages for viewers at Canadian/American/Association football and other events. All seats wider by 2 inches than those at the current stadium. More legroom, better concession stands, wider concourses – literally everything should be an improvement. Numbers don't lie – the new stadium will be twice larger than its predecessor in terms of surface.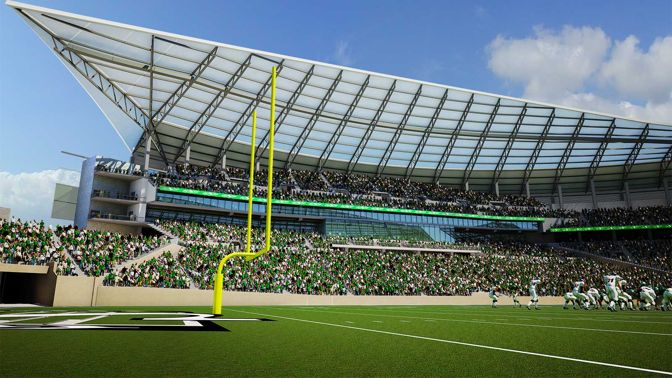 Image: NewMosaicStadium.com
Capacity is set at 33,000 permanent seats, most accessible from ground level. But with one end open, the stadium can in fact grow to 40,000 if need be. This option is saved for high profile events, like Grey Cup. Commercially the new seating layout also means much, much more revenue: 1,400 business seats, 38 skyboxes (610 seats), 250-capacity panoramic loge.
As if this wasn't promising enough, Roughriders announced the naming rights is already taken by none other than The Mosaic Company, sponsors of current stadium's name. The partner bought 20-year naming rights, meaning a succession of Mosaic Stadium name once Roughriders relocate to the new ground, situated just three blocks away from the old one.