Canada: Financing the reason for no retractable roof
source: StadiumDB.com; author: michał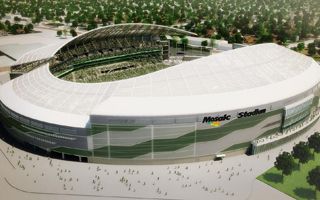 When Regina announced the new stadium back in 2012, it was considered to possibly include roof over the pitch. This turned out far too expensive, might double the price tag.
Final design of the new Mosaic Stadium was presented last week. The stadium is expected to cost $278 million, which raised controversies already in 2012. Similarly-sized building in Winnipeg was priced at $200 million, far below the one for Regina.
But at that time retractable roof or even permanent one over the pitch was considered a possible addition. And though HKS Architects consider this to be their best stadium design ever, it lacks the special feature contemplated during design phase. Initial renderings of two variants can be found below.

Why? "The issue of course is the financing," Regina Mayor Micheal Fougere said last week, when asked about the roof option. "That's a lot of money. So, can we afford that? That's the issue."
How much is a lot of money? A permanent roof over the pitch was priced at $200 million extra, while a retractable one immense $350 million. Both figures mean the price tag would need to double to get the additional feature.