Bulgaria: Scandal during cup final, advertising boards on fire
source: StadiumDB.com; author: michał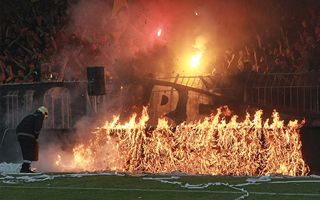 During yesterday's Bulgarian Cup final several small fires were caused by hooligans and… firemen. Flames took electronic advertising system as paper streamers took the flame from flares.
Yesterday Bulgarian Cup was decided in the Lazur Stadium in Burgas. Stands were divided into two parts for fanbases of both finalists: Botev Plovdiv and Ludogorets Razgrad. Botev, enjoying a great run recently, ordered significantly more tickets – 7,600. Total attendance stood at 13,300.
Having that many fans travel over 250km is impressive and so was their vocal support. Also the first two tifos from yesterday pleased the eye, but paper cartons and streamers proved part of a problem later into the game. Streamers were thrown onto the pitch and cleaned up hastily, resting along the sidelines.
Then in 58th minute, just 4 minutes before Ludogorets scored the game's only goal, pyrotechnics were set off in the Botev contingent, causing a 17-minute delay of the game. While some materials were lit within the stand, many were thrown onto the pitch.
And once there, they were collected by firemen, who… threw them onto the paper streamers. This caused rapid fire which took electronic advertising boards in several places along the field. Supporters also took their flags off the fence to avoid further damage.
At this time the extent of damage isn't clear, but will most likely Botev will have to cover the bill. Not only were some of the boards destroyed, the entire advertising system stopped working for the remainder of the game, which may add further claims from furious sponsors of the game. Botev is yet to comment on the events.
Worth noting, this isn't the first case proving that flares can only be lit and handled in a responsible way to remain a safe addition to the game. In previous years some games saw more dangerous situation. For example, in Chicago and Chilean Santiago paper litter started burning in the stand, causing much more danger and crowd evacuation.