Bristol: Rovers relegated to 5th league, but still want new stadium
source: BristolRovers.co.uk; author: michał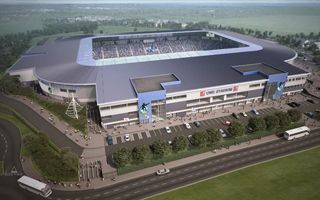 It's the first time since Bristol Rovers joined the Football League that the side landed so low. But chairman Nick Higgs assures this isn't the end and Rovers are still planning on building their new stadium.
Saturday saw very painful scenes at the Bristol Memorial Stadium. Rovers lost 0:1 to Mansfield Town and were relegated out of the Football League first time since joining the structures in 1920. This caused a major pitch invasion and confrontation with the police, which saw three officers injured.
Chairman Nick Higgs assured the dramatic final of 2013/14 season wasn't caused by the club struggling to build their new stadium at University of West England.
Speaking to the official website he said: "I don't think the stadium has been a distraction – I think they are two separate issues. The stadium and the playing side are not linked in anyway.
"The stadium plans still continue, what we need to do at this moment in time is look at the situation with the club going into the Conference, and the effect that has on both playing and non-playing staff.
Higgs made it clear the playing team was very disappointing, but also expressed certainty that his club will bounce back to its place in the league system.