Belgium: Regenboog's renovation begins
source: voetbalkrant.com; author: michał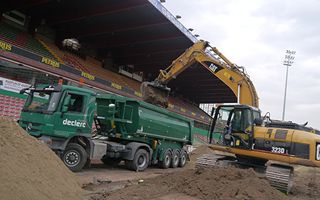 Zulte-Waregem has qualified for a Europa League spot. That's why just one day after season ended works began at Regenboogstadion.
Just as announced back in February, redevelopment began at Regenboog, the home stadium of Zulte-Waregem. The club, formerly forced to play their European games at neutral grounds, will now be able to hold qualifiers at home in July.
To meet UEFA's requirements a lot of work needs to be done. First, the field will be widened, floodlights, substitute benches and press section improved. Also, seats need to be installed where there's standing room only.
The ongoing changes are expected to be only the beginning of complete stadium revamp. Along the design prepared by Goedefroo+Goedefroo Architecten only the western main grandstand will remain left almost as it is. Three others will be rebuilt and give 14,000 capacity, of which 2,000 on terraces (13,000 seated for European games).