2022 World Cup: Blatter admits selection of Qatar was a mistake
source: StadiumDB.com; author: michał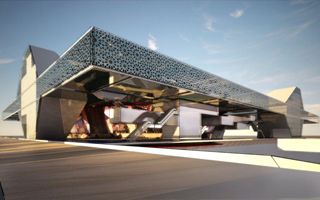 Sepp Blatter openly admitted that hosting the summer World Cup in Qatar was a mistake. In a following statement by FIFA the choice was called an 'error', but this doesn't mean changing hosts. Rather a step towards winter World Cup instead…
During his interview for the Swiss TV station RTS, FIFA president Sepp Blatter admitted the awarding of 2022 World Cup to Qatar was a mistake. "Of course, it was a mistake. You know, one makes a lot of mistakes in life.
"The technical report indicated clearly that it was too hot in summer, but despite that the executive committee decided with quite a big majority that the tournament would be in Qatar."
What Blatter didn't mention is that the decision was also against FIFA's own bid regulations that don't allow a single city to have more than two host venues. In Qatar most of the stadiums are in or directly neighbouring Doha. Never before had such a congested layout been even considered eligible. Currently Qatar is reconsidering the planned number of stadiums, reducing it from the pledged 12 to 8-10.
Blatter insisted however that Qatar had not "bought" the World Cup – the bid did spend large amounts of money on sponsorship and development programmes.
He added: "No, I have never said it was bought, but that it was due to political considerations. We know full well that big French and German companies work in Qatar but they don't just work for the World Cup. The World Cup is only a small part of what is going on in Qatar."
Following the controversial interview that soon went viral, FIFA released a statement that attempted to clarify Blatter's comments.
"The comment by the FIFA president concerning the organisation of the 2022 FIFA World Cup in Qatar to Swiss TV station RTS is in line with previous comments on this matter," it read.
"As explained in his answer to the journalist, the president reiterated that the decision to organise the World Cup in summer was an 'error' based on the technical assessment report of the bid, which had highlighted the extremely hot temperatures in summer in Qatar. At no stage did he question Qatar as hosts of the 2022 FIFA World Cup."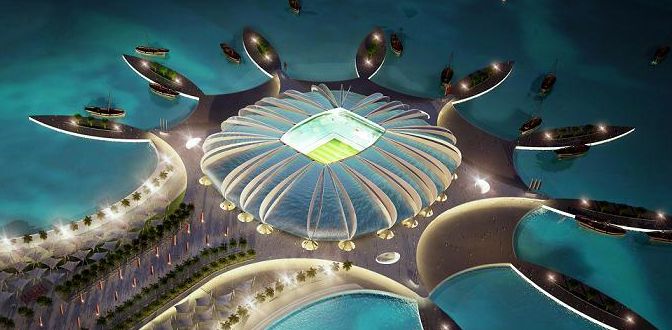 The statement suggests FIFA is closing in on a schedule change rather than geographical relocation. Decision was recently postponed due to the upcoming 2014 World Cup.
Just as a remainder, the Qatari bid assured temperature inside stadium can be decreased by using new cooling technologies from the hot 45 to moderate 25 °C. It was envisages that, for example, one stadium could be transformed into a large fountain (seen above) with the outer shell constantly covered with sea water from the Doha bay. However, many of the ideas proved too expensive and unsustainable in the long run.