Turkey: Away section for €270!
source: StadiumDB.com; author: michał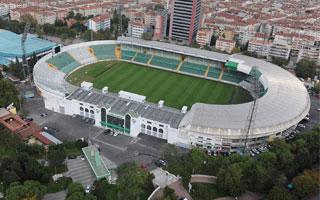 No, it's not the Champions League final or a VIP invitation. This is the price Bursaspor set for Galatasaray following for the most obscure section of Bursa Atatürk Stadyumu for tomorrow's semifinal of the Turkish Cup.
Played in late March, the first semifinal of the Turkish Cup between Galatasaray (3rd) and Bursaspor (11th) saw a much unexpected comeback by the away side. Having lost 2 goals before the break, The Crocodiles managed to equalize in the 88th minute.
Now the second leg will be played in one of Turkey's hottest stadiums, in front of the fanatic Teksas curve. Meanwhile this may be also the only trophy for Galatasaray this year, because championship is already secured by Fenerbahce.
The Istanbul Lions' supporters now travel over 200km by land or less via ferry/plane to Bursaspor, one of the closest away games by Turkish standards. Meanwhile the host side are trying to make it the most expensive ever despite close distance.
We have confirmed that home fanatics of Teksas will be charged 50 lira (€17/$24) and home VIP sections costs 300 lira tops (€100/$140). Meanwhile, the away section, or in other words the very worst part of Bursa Atatürk Stadyumu, has ticket prices set at 800 lira per seat! This represents over €270 or $375 per ticket.
Obviously the leading supporter organization of Galatasaray is outraged about the scalping policy of Bursaspor, but the club argues it's in line with current regulations.
It is quite common for supporters of Besiktas, Fenerbahce and Galatasaray to be forced to pay more for their away allocations, but this "pricing policy" surely takes the cake for insane rip-off.