Thailand: Football without dry land? Sure, why not
source: StadiumDB.com; author: michał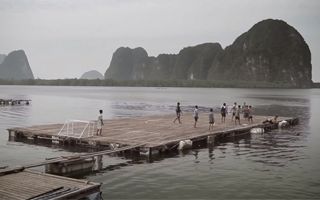 The paradise rocky coasts of Thailand look great on holiday photos, but aren't exactly the best breeding ground for football players. Or are they?
Ko Panyi is a fishing settlement dating back to the 18th century. Based on only a piece of flat land at the foot of 360-meter-long rock, the village is built almost completely on inter-connected ramps over water. Today the population is well above 1,500 people and football is the most popular sport.
For impatient readers: no there's no stadium here, but it's still worth reading – a Hollywood script material. In 1986, having watched the World Cup on tv, a group of local boys decided to establish their own football team.
Complete lack of land didn't stop them, they built a floating platform. Hardly usable, less than a fifth of a regular pitch in size, this wooden block became their training field and playground.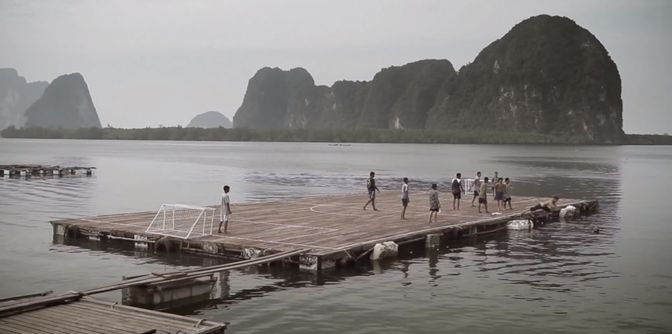 With no shoes, splinters and nails made them extra cautious while playing. Modest size meant that someone had to dive in every time the ball went out. Control of it and technique became crucial and supposedly these harsh conditions earned the boys impressive skills.
The rest can be seen in this short video produced in 2011 as part of a social campaign to inspite Thai people in making changes in their communities. While the story may be embellished, it's based on what actually happened. The team succeeded in their first mainland tournament and has been in operation since.
Football became the most important sport for local children and the historical field from 1986 exists to this day. In recent years it was renovated and has a new surface, still being a significant tourist attraction for thousands of foreign visitors travelling through the pictoresque coast.
With just 50km from the centre of Phuket, the village is an important pit-stop for boat tours. This means many locals work in souvenir stalls or small restaurants by day and football practise often happens at dusk, as residents have some peace.
StadiumDB.com understands there are four playing fields currently in Ko Panyi, two of which are floating and two permenantly built above water level. With concrete surface, the new main pitch is the best locally, but still hardly professional, measuring roughly 40 meters long.
But the unique set of playing fields became famous for young and talented players. The boys who started Panyee FC 28 years ago are now grown up and still engaged in the team's operations. Apart from the senior squad there are also several youth teams playing football. Even if there's not one actual football field there...