Rio de Janeiro: Clashes outside Engenhão as workers strike
source: Reuters.com; author: michał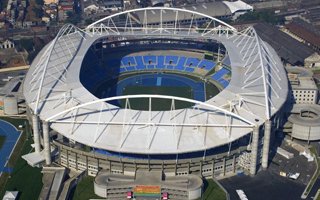 While Brazilian World Cup stadiums are in the spotlight, now it's trouble again at the 2016 Olympics main arena. Scuffles broke out yesterday between security and protesting workers.
Yesterday confrontations erupted between workers and security guards as the first group blocked avenues nearby the Olympic Stadium, Engenhão. Shots were fired, according to Reuters, but no-one was hurt in the scuffles.
Construction workers at the 2016 Olympic Park demand higher wages. The Olympic Park is one of the focal points of Rio's Olympic Games and will host judo, basketball, tennis, handball and cycling events at a host of purpose-built facilities.
The international broadcast centre and the main media base will also be located in the park, which is being built on the site of Rio's former Formula One track. The consortium responsible for the park, which is slated for delivery in the first half of next year, vowed the strike would not affect delivery dates.
But there is already concern at Rio's slow pace of work. Construction workers fixing the Joao Havelange stadium that is due to host the track and field events have also downed tools in protest over working conditions and low wages.